Bushwick Book Club - Aesop's Fables
Bushwick Book Club - Aesop's Fables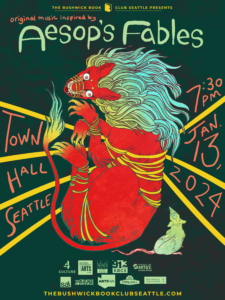 The Bushwick Book Club Seattle is a group of musicians dedicated to sharing our combined passion for both music and reading with the Seattle community and beyond. With each performance, a book is chosen which is read by our talented Bushwick artists who then write original music inspired by the book they just read. The audience is encouraged to read the featured book and participate in the events as well. By producing these unique, one of a kind musical literary events we hope to increase awareness in literature and song writing, while at the same time remind people (young and old) that reading can and should be a regular part of their daily lives.
About Aesop's Fables:
The collected fables of Aesop, a Greek slave and storyteller, have endured for over two millennia. From The Boy Who Cried Wolf to The Fox and the Grape and many more beyond, this sprawling collection continues to enchant readers with its timeless wisdom and humor.
"Ultimately the fables represent one of the oldest characteristics of human life: storytelling. […] The stories served as a code by which the weak and powerless could speak out against the strong and powerful." – World History Encyclopedia
Heads up: most of these stories are harmless, but those who explore more of the hundred-plus fables attributed to Aesop might find some death, racial insensitivity, and other trappings of cautionary tales from bygone eras.