Bushwick Book Club - Charlotte's Web by E.B. White
Bushwick Book Club - Charlotte's Web by E.B. White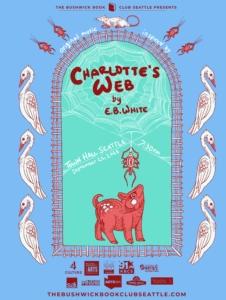 The Bushwick Book Club Seattle is a group of musicians dedicated to sharing our combined passion for both music and reading with the Seattle community and beyond. With each performance, a book is chosen which is read by our talented Bushwick artists who then write original music inspired by the book they just read. The audience is encouraged to read the featured book and participate in the events as well. By producing these unique, one of a kind musical literary events we hope to increase awareness in literature and song writing, while at the same time remind people (young and old) that reading can and should be a regular part of their daily lives.
About the Book:
Ever since E.B. White spun this classic tale in 1952, readers have been captured by its barnyard magic. Wilbur the pig and Charlotte the spider, through subtle meditations on death and change, illustrate better than any human what it means to be humane. Some book.
"As a piece of work it is just about perfect, and just about magical in the way it is done." – Eudora Welty
Heads up: readers must bid farewell to a beloved character, who reaches a gentle and natural end by the novel's close.