Bushwick Book Club - Dogman
Bushwick Book Club - Dogman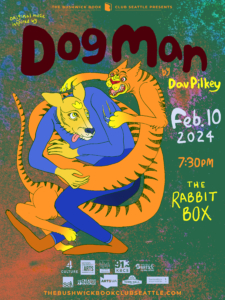 The Bushwick Book Club Seattle is a group of musicians dedicated to sharing our combined passion for both music and reading with the Seattle community and beyond. With each performance, a book is chosen which is read by our talented Bushwick artists who then write original music inspired by the book they just read. The audience is encouraged to read the featured book and participate in the events as well. By producing these unique, one of a kind musical literary events we hope to increase awareness in literature and song writing, while at the same time remind people (young and old) that reading can and should be a regular part of their daily lives.
About Dogman:
From the mind that brought you Captain Underpants, Bainbridge Island native Dav Pilkey's ongoing saga of a dog-headed cop with a heart of gold (and the breath of an outhouse) digs much deeper than its oddball premise suggests—down, perhaps, to the meaning of life itself.
"High-intensity, heartwarming, and, above all, hysterically funny…Whether through nifty Star Wars references, time-honored slapstick, self-aware wordplay, or plain old wackiness, Pilkey's comic genius is out in full force." – Kirkus (starred review)
Heads up: brace yourself for farts, peril, villainous scheming, and more farts – plus some surprising and tender meditations on family that might hit hard for some readers.