Bushwick Book Club - Glory
Bushwick Book Club - Glory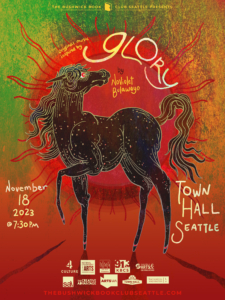 The Bushwick Book Club Seattle is a group of musicians dedicated to sharing our combined passion for both music and reading with the Seattle community and beyond. With each performance, a book is chosen which is read by our talented Bushwick artists who then write original music inspired by the book they just read. The audience is encouraged to read the featured book and participate in the events as well. By producing these unique, one of a kind musical literary events we hope to increase awareness in literature and song writing, while at the same time remind people (young and old) that reading can and should be a regular part of their daily lives.
About the book, Glory:
For her second book, Zimbabwean author NoViolet Bulawayo tried to write nonfiction about the 2017 coup of Robert Mugabe—what came out instead was the Booker Prize-nominated novel Glory, a bombastic satire in the riotous spirit of Orwell's Animal Farm. Buckle up.
"By aiming the long, piercing gaze of this metaphor at the aftereffects of European imperialism in Africa, Bulawayo is really out-Orwelling Orwell. This is a satire with sharper teeth, angrier, and also very, very funny." – New York Times Book Review
Heads up: with its target on political corruption and hypocrisies, this novel features plenty of toxic masculinity and power run amok.