Bushwick Book Club - I Sing the Salmon Home
Bushwick Book Club - I Sing the Salmon Home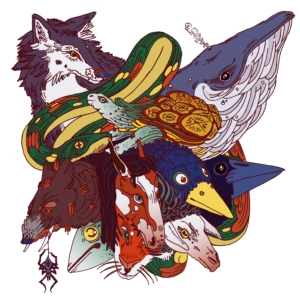 The Bushwick Book Club Seattle is a group of musicians dedicated to sharing our combined passion for both music and reading with the Seattle community and beyond. With each performance, a book is chosen which is read by our talented Bushwick artists who then write original music inspired by the book they just read. The audience is encouraged to read the featured book and participate in the events as well. By producing these unique, one of a kind musical literary events we hope to increase awareness in literature and song writing, while at the same time remind people (young and old) that reading can and should be a regular part of their daily lives.
About I Sing the Salmon Home:
To cap off her storied term as Washington's sixth State Poet Laureate, Lummi tribal member Rena Priest gathered poems from more than 150 Washington poets—ranging from first graders to tribal elders—to celebrate the Northwest's signature swimmers in this singular anthology.
"At long last salmon—the soul of the Pacific Northwest—have been given words to match the ongoing miracle of their existence." – Timothy Egan, author of The Good Rain
Heads up: reading this collection may cause you to buy fishing gear, get a boat, and never leave the Northwest.