Bushwick Book Club - When the Elephants Dance
Bushwick Book Club - When the Elephants Dance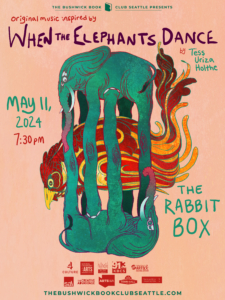 The Bushwick Book Club Seattle is a group of musicians dedicated to sharing our combined passion for both music and reading with the Seattle community and beyond. With each performance, a book is chosen which is read by our talented Bushwick artists who then write original music inspired by the book they just read. The audience is encouraged to read the featured book and participate in the events as well. By producing these unique, one of a kind musical literary events we hope to increase awareness in literature and song writing, while at the same time remind people (young and old) that reading can and should be a regular part of their daily lives.
About When the Elephants Dance:
In this mesmerizing twist on historical fiction, untamed tales of wartime Philippines converge with the captivating allure of folklore, culminating in a profound celebration of human resilience and boundless love amid the chaos of war.
"Lush, arresting, and fiercely beautiful, When The Elephants Dance unfolds like a shadowy fugue, a waltz between light and dark, between frailty and strength. Holthe has created a gripping portrait of the Philippines and its struggle for self-determination." – Linda Watanabe McFerrin, author of Hand of Buddha
Heads up: this spellbinding novel is upfront about wartime traumas, including death, torture, and assault.