Bushwick Book Club - Where the Crawdads Sing
Bushwick Book Club - Where the Crawdads Sing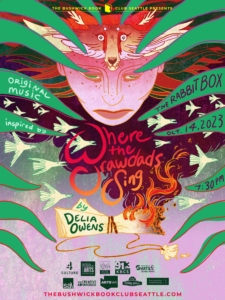 The Bushwick Book Club Seattle is a group of musicians dedicated to sharing our combined passion for both music and reading with the Seattle community and beyond. With each performance, a book is chosen which is read by our talented Bushwick artists who then write original music inspired by the book they just read. The audience is encouraged to read the featured book and participate in the events as well. By producing these unique, one of a kind musical literary events we hope to increase awareness in literature and song writing, while at the same time remind people (young and old) that reading can and should be a regular part of their daily lives.
About Where the Crawdads Sing:
Set in the North Carolina marshes of the mid-20th century, this literary smash blends the time-tested coming-of-age and murder mystery genres into a captivating cocktail all its own. Want our advice? Read the book. Watch the movie. See the concert.
"Outstanding…Readers should set aside daily tasks, turn off cell phones, forget about laundry and possibly even eating once they start this story." – New York Journal of Books
Heads up: a lot goes down in this bestselling novel – get ready for alcoholism, abuse and neglect, hateful speech, and murder.