Shook Twins with Madeline Hawthorne @ Tractor Tavern
Shook Twins with Madeline Hawthorne @ Tractor Tavern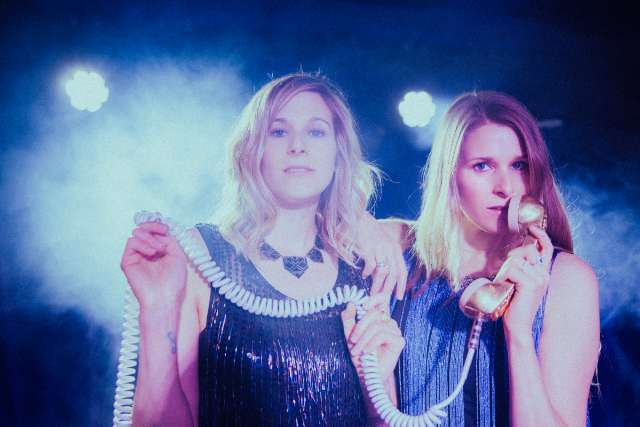 Perhaps, it could be attributed to cosmic design, good old-fashioned magic, or the unspoken, yet understood bond all twins share. One day back in 2007, identical twin sisters Katelyn Shook [vocals, guitar] and Laurie Shook [banjo, vocals] found themselves writing, recording, and performing as Shook Twins. To their recollection, the pair never hatched a plan or even properly discussed it.
Hundreds of shows, four albums and 2 EPs later, the duo continue to tread this path.
"Neither of us remember a time where we planned things out, it all unfolded naturally," affirms Katelyn. "We simply started to play out and call ourselves Shook Twins, because that's simply who we are."
"We never set specific goals either," adds Laurie. "We talk about our hopes and dreams, but we've just let everything grow organically with the band. We'll see what happens next."
Since their 2008 debut You Can Have The Rest, Shook Twins have conjured up dreamy folk with ghostly traces of Americana tradition uplifted by transcendently hummable melodies and lilting cinematic instrumentation. Along the way, legendary New York Times best-selling author Neil Gaiman, USA Today, Langhorne Slim, Mason Jennings, and more fell under their spell and publicly professed adoration.
Simultaneously, they've graced legendary stages such as Red Rocks Amphitheatre with Gregory Alan Isakov and Ani DiFranco in addition to sharing bills with The Lumineers, The Head and the Heart, Sarah Jarosz, The Wood Brothers, and many others. Not to mention, they've carved a home for themselves after playing Northwest String Summit and Oregon County Fair over ten times each as well as appearing at High Sierra Music Festival, Lightning In A Bottle, Bumbershoot, Hulaween, Telluride Bluegrass Festival, Electric Forest, Summer Camp Music Festival, and beyond. During 2012, the band welcomed multi-instrumentalist and "everything dude" Niko Slice on guitar, mandolin, and bass. Rounding out the sound (and the family) further, keyboardist and bassist Aber Miller joined the fold in 2018. Additionally, they welcome a rotating quiver of dynamic drummers, namely Alex Radakovich, Darren Garvey, and Simon Lucas.
Tractor Tavern
5213 Ballard Ave NW
USA
2067893599