Amy Goodman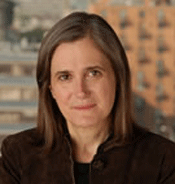 Amy Goodman is an award-winning investigative journalist and syndicated columnist, author and host/executive producer of Democracy Now!
Goodman is the first journalist to receive the Right Livelihood Award, widely known as the 'Alternative Nobel Prize' for "developing an innovative model of truly independent grassroots political journalism that brings to millions of people the alternative voices that are often excluded by the mainstream media." She is also one of the the first recipients, along with Salon.com blogger Glenn Greenwald, of the Park Center for Independent Media's Izzy Award, named for the great muckraking journalist I.F. Stone. PULSE named her one of the 20 Top Global Media Figures of 2009. Goodman has received the American Women in Radio and Television Gracie Award; the Paley Center for Media's She's Made It Award; and the Puffin/Nation Prize for Creative Citizenship.
Her reporting on East Timor and Nigeria has won numerous awards, including the George Polk Award, Robert F. Kennedy Prize for International Reporting, and the Alfred I. duPont-Columbia Award. She has also received awards from the Associated Press, United Press International, the Corporation for Public Broadcasting, and Project Censored. Goodman received the first ever Communication for Peace Award from the World Association for Christian Communication. She was recently honored by the National Council of Teachers of English with the George Orwell Award for Distinguished Contribution to Honesty and Clarity in Public Language.
Goodman writes a weekly column (also produced as an audio podcast) syndicated by King Features, for which she was recognized in 2007 with the James Aronson Award for Social Justice Reporting. A collection of these columns appears in her latest book, New York Times bestseller Breaking the Sound Barrier (2009), highlighting the power of independent journalism in the struggle for a better world, one in which ordinary citizens are the true experts of their own lives and communities. She is the co-author with her brother, journalist David Goodman, of three New York Times bestsellers, Standing Up to the Madness: Ordinary Heroes in Extraordinary Times (2008), Static: Government Liars, Media Cheerleaders, and the People Who Fight Back (2006) and The Exception to the Rulers: Exposing Oily Politicians, War Profiteers, and the Media That LoveThem (2004).