Gregory D'Elia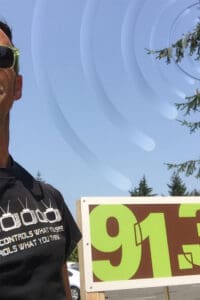 Operations Manager
gregory@kbcs.fm
425-564-6146
I've been volunteering for not for profit college community radio since I was 15 years old. Starting in high school at our small radio station, KSFH 90.5FM basically transmitting to the parking lot and some houses within 3 blocks of the campus.  This low powered station was a pet project by professors and the sports department for broadcasting game info.  One of the professors opened the door for interested students to learn programming and create music programs instead of just sports stuff.  I co-hosted a 2 hour show with 3 other friends.  First song I ever played over the airwaves: The Who "Magic Bus." Lots of fun and it peaked my interest to listen to other stations in my area.
In summer of 1990 I heard a call out for DJs for the Underground Sound: KSCU in Santa Clara on the Santa Clara University Campus.  I signed up and started learning audio production, radio broadcasting and the overwhelming diversity of music.  At that time I spent a focus programming shows featuring local, alternative, indie, punk rock and jazz.
In 1992, I transferred to UCDavis in Yolo County, CA.  Took a real bite out of music and audio production at KDVS. A saving grace from the stress of college, career, and the future, radio became my other life. I would often spend 6 – 8 hours programming music for late night hours and still coming in during the day for my regular show and my college courses! I won't forget those times. I often fondly remember those fantastic experiences with amazing music aficionados, friends, musicians and artists.
After 7 years in community and college radio I took a brief sabbatical to pursue experimentation with video art, installation work and video editing.  Moving up to Seattle in 1996, I was involved in many video art performances and projects, but I still was longing again for the music sharing outlet and freedoms of community public radio.  A friend knew my past radio programming experience and how I felt.  He suggested looking into KBCS 91.3FM.  What a wonderful find of music enthusiasts, journalists, activists, and supporters of community radio.  I have been at KBCS since 2000 playing music for our Northwest and global listening community, producing specific show content, conducting interviews and assisting with KBCS live events and studio recordings.
I am grateful for all the music, artists, musicians, and song creators who have changed my life forever.  I am indebted to all the people I have met (and will meet) who I have learned from, been inspired by and who create amazing moments in life through music.   Community radio is pivotal to my life and I hope to yours. Thank you.
Greg hosts Variations, Fridays at 11pm.