Rustin Thompson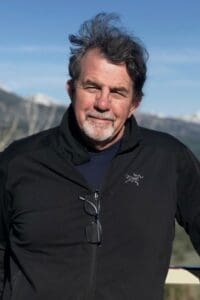 I am a writer, filmmaker, and deejay. My first book, Get Close: Lean Team Documentary Filmmaking is now available from independent bookstores and Oxford University Press. Along with my wife and filmmaking partner, writer Ann Hedreen (Her Beautiful Brain), we own White Noise Productions, where we've made more than 170 short documentaries for non-profit organizations. Our feature documentary films include Slow Revolution, My Mother Was Here, Zona Intangible, The Church on Dauphine Street, Quick Brown Fox, and 30 Frames A Second.
Before I became a filmmaker, I worked as a cameraman/editor/producer in local TV news in Reno, Colorado Springs, and Seattle. In the '90s I freelanced as a CBS News cameraman and won a national Emmy for a series of stories shot in North Korea. I graduated with a not entirely useless degree in Broadcast Journalism from the University of Washington.
I've also written film criticism for Moviemaker, Crosscut, KBCS, and my own website. I've hosted Road Songs since 2003. My favorites hobbies are watching films, reading books, hiking, camping, and sampling IPAs.