Thom Hartmann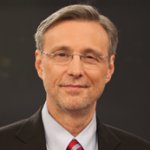 Thom Hartmann is a progressive national and internationally syndicated talk-show host whose shows are available in over a half-billion homes worldwide.  He's the New York Times bestselling, 4-times Project Censored Award winning author of 24 books in print in 17 languages on five continents.  Leonardo DiCaprio was inspired by Thom's book "The Last Hours of Ancient Sunlight" to make the movie "The 11th Hour" (in which Thom appears), and Warner Brothers is making a movie starring DiCaprio and Robert De Niro from the book Thom co-authored with Lamar Waldron, "Legacy of Secrecy."
Talkers Magazine named Thom Hartmann as the 8th most important talk show host in America in 2011, 2012, and 2013 (10th the two previous years), and for three of the past five years the #1 most important progressive host, in their "Heavy Hundred" ranking. His radio show is syndicated on for-profit radio stations nationwide by Dial-Global, on non-profit and community stations nationwide by Pacifica, across the entire North American continent on SiriusXM Satellite radio, on cable systems nationwide by Cable Radio Network (CRN), on its own YouTube channel, via Livestream on its own Livestream channel, via subscription podcasts, and through the Thom Hartmann App in the App Store.  The radio show is also simulcast as TV in realtime into nearly 40 million US and Canadian homes by the Free Speech TV Network on Dish Network, DirectTV, and cable TV systems nationwide.
His evening TV program, The Big Picture, is wholly owned by his own production company, produced in the RT studios, and licensed to and carried by Free Speech TV in the US and into over 600 million homes in 104 countries by the RT TV network, and distributed worldwide on Hulu.
Thom has spent much of his life working with and for the international Salem relief organization (www.saleminternational.org) and he and his wife Louise founded a community for abused children in New Hampshire (www.facebook.com/nesalemchildrensvillage)  and a school for learning disabled and ADHD kids (www.hunterschool.org).
As an entrepreneur, he's also founded several successful businesses which still are operating, and lived and worked with his wife, Louise, and their three children on several continents.
He was born and grew up in Michigan, and retains strong ties to the Midwest, although he and Louise have lived in New Hampshire, Vermont, Georgia, Germany, and Oregon…and now live on a boat in Washington D.C. with their attack-cat, Higgins.
You can listen to recent broadcasts on the KBCS archive for the Thom Hartmann Program