Thousands of Seattleites joined a nationwide rally on November 8th, 2018, in support of Special Counsel Robert Mueller. The Northwest News Network's Casey Martin reports it comes after President Trump replaced Attorney General Jeff Sessions with a critic of Mueller's investigation into the Trump campaign.
Seattle continues to grapple with the police killing of Charleena Lyles, the pregnant black woman gunned down after she reported a burglary to the Seattle Police Department.  On July 2nd 2017, a local nonprofit held a healing ceremony for the black community at Seattle's Seward Park, and KBCS's Casey Martin was there.
Remember seeing poetry on King County and Sound Transit buses a few years ago? After a brief hiatus, Poetry on Buses coordinated by 4Culture returns this Monday 24 April to the Puget Sound. KBCS's Casey Martin brings us this week's Unmute the Commute story.
For more details about the Poetry on Buses project, including the launch party Monday 24 April at the Moore Theatre, visit poetryonbuses.org.
Unmute the Commute is a weekly series highlighting commuter stories, supported in part by King County Metro's Just One Trip.
Saturday's Women's March on Seattle is expected to be the third largest in the country. With tens of thousands of people marching, expect to see posters, flags, and even… puppets. Find out what goes into making these puppets and what they represent.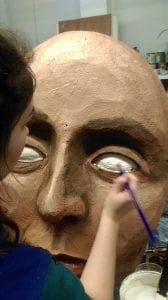 A look at what goes into making a march puppet.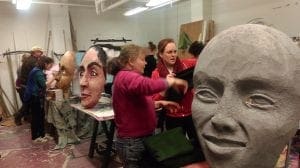 Hard at work.