In 1956, Autherine Lucy, a Black student was expelled from University of Alabama within the first three days of starting a master's program in Education.  Lucy had enrolled at the school just after the Supreme Court case, Brown vs Board of Education deemed segregation of public schools illegal. It wasn't until 1988 that Lucy's expulsion was annulled and she re-enrolled in the same program.  She graduated in 1992.
KBCS's Ruthie Bly brings you this story about Autherine Lucy's commitment to pursue her master's degree.  This story is produced in partnership with Sankofa Impact. Sankofa Impact is a non-profit organization which hosts events and trips to engage community in informative and transformational discussion around the Black freedom struggle.
Producer: Ruthie Bly  Special Thanks to Valentina Cooper for help with editing this story.
Photo: Gene Herrick -AP News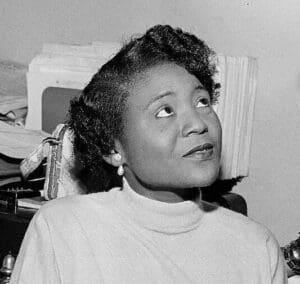 KBCS highlights a progressive approach to teaching college writing classes. A method of teaching college level writing titled Anti-racist Writing Assessment Ecology was adopted by 62 faculty at 30 out of the 34 Washington community college and technical colleges (at the time we were working on this story).  The methodology is meant to address and minimize what some educators are considering a culturally colonized education environment.
Dr. Asao Inoue is a Professor of Rhetoric and Composition in the College of Integrative Sciences and Arts at Arizona State University. He developed the Anti-racist Writing Assessment Ecology and wrote the book, Writing Assessment, Social Justice, and The Advancement of Opportunity. Dr. Inoue talked about the approach and what inspired him to create it.
Emijah Smith assists Black families in the region navigating the school systems.  Smith shares her own experiences in advocating for her loved ones and what led her on this path. (more…)
On October 13th, 2017, protesters gathered in downtown Bellevue to protest Education Secretary Betsy DeVos. DeVos was in town to speak at the Washington Policy Center's annual dinner. Meanwhile, about a dozen counter protesters gathered nearby in support of DeVos. KBCS's Ruth Bly and Devin Williams spoke with individuals from both protests. In addition to the audio stream bellow, KBCS also captured this video footage of the event.
Erin Jones and State Representative Chris Reykdal are running for the job of Superintendent of Public Instruction, a position that oversees the state's K-12 education. This office provides funding and resources for public schools, administers basic education programs, and implements education reform.
KBCS News Director Yuko Kodama has more. The KBCS 2016 Election Series was produced by Jennie Cecil Moore and Angie Voyles Askham.
It takes only a moment to sign a major bill into law. It will take years to implement the new education policy outlined in the Every Student Succeeds Act (ESSA), which President Obama signed last December. The ESSA requires states to develop their own rules, and Oregon educators are looking forward to the possible impacts.
It's no surprise that the natural environment affects our nervous system and bodies in positive ways, yet kids today spend more than seven hours a day in front of entertainment media and an average of a half an hour outside. We highlight the power and benefits of nature on us this week.
Episode 1: Hilarie Cash is the Co-Founder of Restart Life Internet Addiction Recovery Center in Redmond, Washington. Cash and Ellen Krumm, a psychotherapist who specializes in problematic use of technology speak to how nature is one of the most powerful tools in healing internet addiction.
Episode 2 – 5: Wilderness Awareness School, Executive Director, Warren Moon describes how to make the most of the practice of spending time in nature.
Producer: Yuko Kodama
Music: Kevin MacLeod "AcidJazz"
Photo: Travis Swan "splash"
Tens of thousands of students of kids go back to school this fall in the tech corridor of the east side. We highlight Issaquah, Bellevue and Riverview school districts activities and programs.
Episode 1 & 2: Issaquah School District Superintendent, Ron Thiele shares his struggles in providing the infrastructure for the growing number of students in his east-side school district area.
Episode 3: The Riverview School District highlights a parent partnership program, more commonly referred to as PARADE, where homeschool families work with school district teachers to supplement their curriculum. PARADE Teacher, Connie Schutte, Student Sasha Charboneau Teece and Parent Nealy White share their experience with the program.
Episode 4 & 5: The Bellevue School District rolls out a new Science, Technology, Engineering, Math (STEM) and Social and Emotional Learning (SEL) curriculum for all of its elementary schools this year with plans to expand to all grades soon. Curriculum Developer, Greg Bianchi describes the new STEM programming in Day 4, and Curriculum Developer Wendy Powell describes the SEL program in Day 5.

Producer: Yuko Kodama
Music: Kevin MacLeod "AcidJazz"
Photo: woodleywonderworks
Our region's Native community is vibrant, and a force to be reckoned with.  From art and education, to  social services and political advocacy, we feature some of the leaders empowering the Native experience.
Episode 1 – Last October, local Lakota activist, and Co-founder of the blog, Last Real Indians Matt Remle made a breakthrough in Seattle with the replacement of Columbus Day for Indigenous People's Day. The event made national and international headlines. Remle discusses the importance of recognizing Native Americans on Columbus Day.
Episode 2 – This year, all Washington public schools are  mandated to teach Native American history and governance in the curriculum.   Mike Vendiola is a Swinomish member and Washington State's Native Education Program Supervisor for the Superintendent of Public Instruction.  He explains the need for the legislation.
Episode 3 – Pahnee Tribal Member and Chief Seattle Club Executive Director, Colleen Echohawk explains one of the core reasons why there's a disproportionate number of Native Americans on the street and without a home.
Episode 4 & 5 – Louie Gong is a Nooksack member, arts entrepreneur and educator who founded Eighth Generation.  He breaks down cultural appropriation and the impact on the native community.
Image – Courtesy of artist, Louie Gong "Modern Day Warrior"
Music – Rushus "crimson turtles", "05-29"
Producers – Ruth Bly and Yuko Kodama
Essence is a well-known monthly African American women's magazine.  What may not be as well-known is the successful black women's lifestyle publication was founded by four African American men including Edward Lewis.  Edward Lewis was in our studios to share his perspective and experience in starting up, Essence.
Episode 1 – Co-Founder of Essence Magazine,  Edward Lewis talks about the women who influenced him
Episode 2 – Edward Lewis speaks about the power of black women in our society.
Episode 3 – Edward Lewis recounts the challenges he faced in starting up this now successful monthly.
Episode 4 – Edward Lewis, explains how he helped kickstart Latina Magazine with Christy Haubegger. Lewis also talks about the importance of a woman's magazine that covers all topics including those sometimes considered controversial.
Photo:  Courtesy of Essence Magazine
Music: Rushus – modal blues
Producers:  Sonya Green and Ruth Bly