Arsalan Ibrahim's life was turned upside-down one day with the purchase of a West African music CD.  This marked the start of a long journey into deep connection with his ancestry and lineage of storytelling.  Today, Ibrahim is a Jeli of the Mande tradition, using the kora as the vehicle to pass on stories and support the bridge of knowledge between Africa and North America.
Special thanks to Logic Amen and the Griot Party Experience for this story.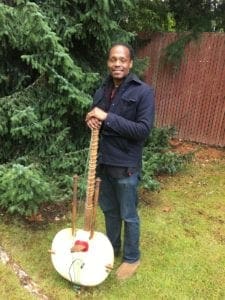 The Griot Party is an event that encourages community healing for all black and brown people whose lives and lineage have been impacted by the transatlantic slave trade.   Listen to Logic Amen, Griot Party Producer, Artist and Educator, speak to what the Griot has symbolized, and the space that the Griot Party events offer for the healing of black men.