Last week, King County scrapped their plans for a homeless shelter expansion on the edge of Seattle's Chinatown International District (CID). Listen to why elders from the CID came out in numbers to protest another homeless shelter in this neighborhood and what they demand now.
KBCS's Gol Hoghooghi met Garold Rainier, a poet on the street. Listen in on how he navigates life since the 2008 economic crash and a serious accident.
Across the street from Cal Anderson Park in Seattle's Capitol Hill Neighborhood, you might come across a cluster of found jars and bottles arranged with  wildflowers and greenery that you would see growing through cracks in the asphalt of any parking lot.  (more…)
Nearly 100 encampments had been removed in Seattle within the first four months of this year. Between 4 and 6 encampments are being removed every week.
KBCS's Gol Hoghooghi came across a homeless encampment cleanup in Central Seattle last month and brings you this story of what a sweep looked like.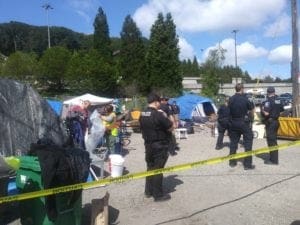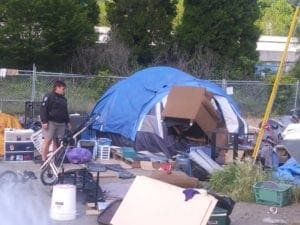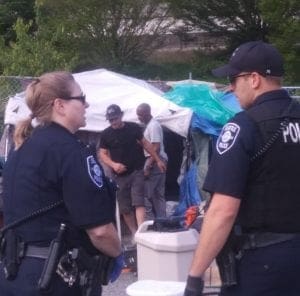 Yes! Magazine's Bailey Williams speaks with Valerie Schloredt about her article in the magazine's Spring 2018 "decolonize" issue, on what a neighborhood project is doing to address homelessness.
America leads the world in wasting food. It's estimated almost half of all produce in the U.S. is thrown away. "OSL – Operation Sack Lunch", a nonprofit in Seattle, is trying to combat that problem by rescuing food before it's wasted. KBCS's Casey Martin traced how leftover food from local businesses became meals for the homeless.
We take a look at what the Tulalip tribe is doing to help the homeless in our area. Earlier this year, KBCS's Jim Cantu spoke with some of the participants at the Tulalip tribes training program where they were building tiny houses for the homeless.
When KBCS asked Eastside homeless services how homelessness looks on the Eastside versus west of Lake Washington, we were told that Eastside homeless doesn't usually look like cardboard signs at freeway on-ramps and sleeping bags on the street. They said it looks more like the commuter in work clothes on the bus or the person standing in line with you when you buy your morning coffee.
When you don't have a home, where do you go to take a shower or do your laundry? KBCS's Jim Cantu spoke with New Bethlehem Day Center Program Manager Natalia Pierson about the services provided to homeless families on the Eastside. This Kirkland facility serves 20 to 50 people a day.
Photo – by Rui Duarte
Recent news has been buzzing with stories about terrorist attacks, and another presidential ban on six Muslim-majority countries.  In this story, we highlight our local Muslim neighbors. The Muslim Association of Puget Sound is an active participant in our local community. Local American Muslim youth share their experiences from one project that provides food for the area's homeless population. Reyan Haji reports.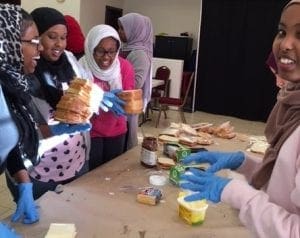 Putting a meal together.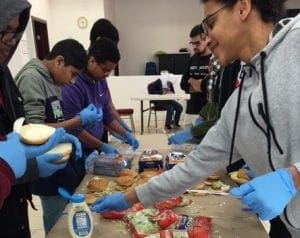 Getting them ready to go.