Public radio personalities, reporters and producers are putting up a fight for better pay. KBCS's Yuko Kodama reports from Seattle's University District.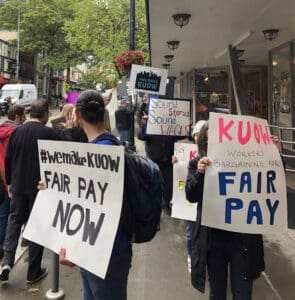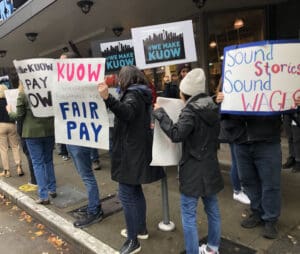 Working Washington and gig workers representing Instacart, DoorDash, Postmates, Grubhub, Uber Eats, Shipt, GoPuff, and Caviar held #AppBlackOut from July 24th through 26th. The action was to request gig workers and allies to log off of these apps for those days, as workers demanded these companies address policies and programs that can negatively impact BIPOC (Black, Indigenous and People of Color) workers.
Aviona Rodriguez Brown, an AfroLatinx artist who supplements their income with gig work, spoke with KBCS about their racialized experiences while on the job as a gig worker.
Producers: Jesse Callahan and Yuko Kodama
Photo: Courtesy of Aviona Rodriguez Brown
In the late 80's, the Ferdinand Marcos regime was convicted of a wrongful death action that revealed the involvement of  planning, execution and cover-up of the assassinations of two Seattle labor leaders, Silme Domingo and Gene Viernes. Find out how these Seattle sons posed a threat to the Marcos government.
"I'm working with at least four people who are above 60 that just got hired when I got hired, because they got laid off…..There are people that have young children at home, people with pregnant spouses…People are making this decision out of necessity and it is just tragic that folks have to risk their lives in order to buy food…"
About 7,800 workers among seven regional Swedish Hospital locations went on strike beginning Tuesday morning at 7 am.   In preparation for the walk out, hospital management had cancelled elective surgeries, closed emergency department services in Redmond and Ballard and stopped labor and deliveries service at their Ballard location.  Strikers announced their return to work for 7:30 am on Friday, February 1st.  KBCS's Yuko Kodama was at Swedish Hospital at Cherry Hill to interview some of the workers who walked out on Tuesday morning.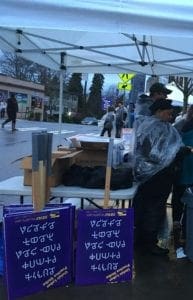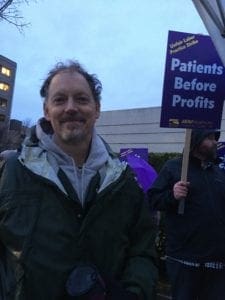 Ron Cole – Swedish Hospital Nurse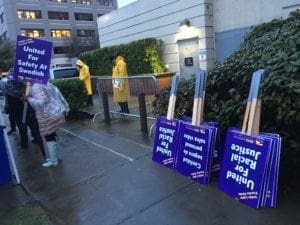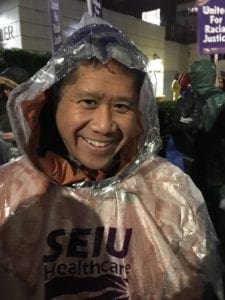 John Poquiz – Swedish Hospital Nurse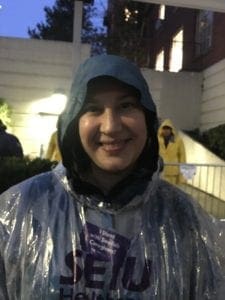 Laura Wood – Swedish Hospital Emergency Department Social Worker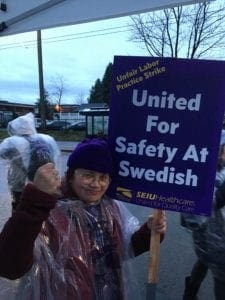 Angelita Sherburne – Swedish Hospital Environmental Service Technician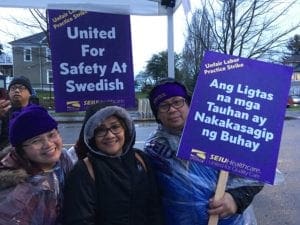 Honesto Silva Ibarra was an H2A visa guest worker and 27 year old father of two from Mexico.  He died in Washington state, as a worker at Sarbanand Farms.  Around the time he became ill, other workers at the same farm were reported ill, dehydrated from the extreme heat and heavy smoke from the summer forest fires.
What came out of the investigation into Silva Ibarra's death was the passage of State Bill 5438, created to fund  an office tasked with monitoring labor, housing, and health and safety requirements for farms using the H2A visa program.  It also prioritizes outreach to domestic farmworkers before farms use the H2A program.
Rosalinda Guillen of Community to Community Development (C2C) spoke with KBCS's Yuko Kodama about the H2A Guest Worker Program and the latest with the Washington State H2A Program Oversight Committee.
Produced by Yuko Kodama
Photo: Community to Community Development
November 5th 2016 marks the 100th anniversary of the Everett Massacre, known as the bloodiest event in Washington labor history. As many as a dozen from a local historical labor organization, Industrial Workers of the World (the I.W.W.) may have lost their lives, as they faced off with squads hired by businesses and commercial interests supporting the five month long strike of our local shingle workers at the time.
The members of local non-profit organization, Pacific Northwest Labor History Association, will commemorate the massacre this month. KBCS Reporter David Griffith talked with spokesman Ron Mcgehee.
The Pacific Northwest Labor History Association is hosting an Everett Massacre Commemorative Boat Tour on November 12, 2016.
A Priority Hire Ordinance passed 9:0 by the City of Seattle in January, 2015. This requires any public construction projects of $5 million or more to hire 20% of its workforce from economically distressed communities within Seattle and King County. KBCS Producer, Yuko Kodama interviewed a number of South Seattle residents on how this new law may benefit the community.
Episode 1 – One of the leading people among over forty groups that supported the priority hire campaign is Got Green founder and green jobs organizer, Michael Woo. Woo recounts how the campaign for Priority hire began.
Episode 2 – Andra Kranzler was the Community lawyer for the Targeted Local Hire Coalition and is currently Community Economic Development Manager for Skyway Solutions.  She  explains how lawyers can contribute to community led efforts, and what this legislation means to struggling communities.
Episode 3 – Union electrician and founder of Renton Area Youth Development Organization, Ray Hall recounts how he got involved in this campaign in 2011 as his neighborhood was hardest hit by the 2008 recession.
Episode 4 – Journeyman laborer, Anastasia, whose real identity is being protected, talks about how project labor agreements and laws for priority hire can help families in her community.
Episode 5 – Green jobs organizer and founder of Got Green, Michael Woo starts off the next segment by sharing what's needed next to ensure people in struggling communities are ready to take advantage of the new legislation
Produced by Ruth Bly and Yuko Kodama
Music by Gepel – El Sol
"Enjoy this story? Tell us more about what you like on KBCS by taking our 2015 listener survey."
We have a very rich history of labor union activity in the Pacific Northwest.  We highlight Carlos Bulosan and the immigrant Filipino and Filipino American labor organizing community.
News Director, Sonya Green interviews the following guests at the KBCS studios:
An exhibit on Carlos Bulosan,  "Author, Poet and Worker: The World of Carlos Bulosan" is currently running at the University of Washington Libraries Special Collections.  It ends on March 13th.
Other links mentioned:
Wing Luke Museum of the Asian Pacific American Experience
University of Washington Special Collections all digitized materials relating to Carlos Bulosan
Law Archives of Washingtonspecial topical section on Cannery Workers Unionism
Details on the Carlos Bulosan exhibit at the University of Washington
The giving season is upon us!  At this time of selling, buying and gifting, it seems appropriate to step back and take a look at consumerism.  The non-profit organization, Humanities Washington hosts Think & Drinks throughout the state – public events that offer a topic and a panel of speakers on the topic to inspire thoughtful discussion in our communities.  They hosted events earlier in December on consumerism.  We listen to some history of consumerism and where we are with it today.
Guests:
Zaki Abdelhamid – Humanities Washington Program Manager
Linda Nash – Professor at University of Washington's Department of History
Listen to the discussion here