The House Select January 6th committee completed their eighth hearing this month.  More hearings and an initial report is in the works for September, as the group continues to investigate the event. 
Nate Gowdy is a local documentary photographer whose work has graced the cover of Time magazine.  He's been photographing the Trump campaigns and rallies for years, and was at the nation's capitol on January 6th 2021.  Gowdy has a book coming out soon titled Insurrection, featuring over 120 photos from that day.  It's edited by Lisa van Dam-Bates.
KBCS interviewed Nate Gowdy and Lisa van Dam-Bates in July.
Producer: Yuko Kodama
Photos: Nate Gowdy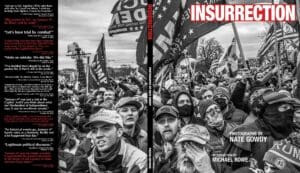 BTS, the South Korean music group has taken the global music scene by storm, breaking records in numbers of albums sold and spun, twitter follows, number of fans, sold out concerts and much more. 
Their influence has been noted by many, including governmental officials who have tried to suppress BTS's reach and image in public. This story looks at who they are, their work and social reach in partnership with their fanbase, ARMY.
Reuters graph of BTS/ARMY fundraising for Black Lives Matter
Producer: Yuko Kodama – special thanks to Sam Sullivan, Christine Marasigan, Nancy Yang, Candace Epps-Robertson, Laura Mundt, Angela Young and Sherry Lynn Reynolds Anderson
Photo: Ashley[epidemic]
Do you know what the most dangerous street in all of Seattle is? Chances are you're thinking of Aurora, or maybe Lake City Way. But you may be surprised to learn that it's Rainier Ave S. And, you may be even more surprised to learn how extensive the problem is – on average, there are 1.5 traffic collisions each day on Rainier Ave S. For Unmute the Commute, this is a 2-part series. Today, walk with us down Rainier Ave. Produced by Hebah Fisher.
Unmute the Commute is a weekly series highlighting commuter stories, supported in part by King County Metro's Just One Trip.
If you live in western Washington, chances are you get your power or your natural gas or both from Puget Sound Energy. The state's largest utility company serves more than a million customers in 10 counties. But it's not just energy that PSE trades in. The company also helps power campaigns and elections in Washington through political contributions. Olympia Correspondent Austin Jenkins reports.
The platform and policies of Democratic presidential candidate Hilary Clinton and Republican presidential candidate Donald Trump are all over the news as we get closer to November, leaving candidates from other national parties with little or no air time.
Some 3rd party candidates like the Green Party's Dr. Jill Stein and Libertarian Party candidate Gary Johnson have shown up on some national news programs, but did you know there was a Kennedy running for president this year? That's Alyson Kennedy of the Socialist Workers Party, who spoke Saturday at a campaign rally in Seattle. Casey Martin talked with her about the Socialist Workers Party's platform.
The 2015 General Election is Tuesday, November 3rd.  You can vote:
By mail. Ballots require first class postage and must be postmarked by November 3rd.
At an accessible voting center by 8 p.m.
At a 24-hour drop box or a scheduled van drop by 8 p.m.
Don't forget to sign your ballot envelope! (It is not valid without a signature on the envelope.)
Voting information is available on your county election website:
Election overview at Secretary of State website – http://www.sos.wa.gov/elections/
Madeleine Albright served as the first female Secretary of State from 1997 to 2001.   She attended the March opening of the Bellevue Arts Museum exhibit of her pins –  accessories she used to sometimes make a political point during her work in  global diplomacy.  She spoke to a forum of Bellevue area high school students at the museum.  The following is a series of segments from the event.
Episode 1 – Madeleine Albright shares how she became U.S. Secretary of State.
Episode 2 – Former Secretary of State Madeleine Albright gives insight on what it was like to be a woman of her stature in global diplomacy.
Episode 3 – Albright talks about how her world view was influenced by her experiences.
Episode 4 – Albright speaks on how she used her pins during her service as Secretary of State.
Episode 5 – Madeleine Albright speaks to satire and its place in society.
music: Kevin MacLeod 'VibeAce'
photo: Diana Walker – courtesy of Bellevue Arts Museum
produced by Ruth Bly and Yuko Kodama
"Enjoy this story? Tell us more about what you like on KBCS by taking our 2015 listener survey."
The Washington Class Size Reduction Measure, Initiative 1351 is one of five issues voters have to consider on the ballot this coming Tuesday.  The measure directs the legislature to allocate funds for smaller K-12 classrooms and hire more teachers and support staff in schools throughout Washington State.
If approved, the measure would be phased in over the course of four years applying it first at "high poverty schools", defined as schools with 50 percent or more of students receiving free or reduced cost lunches.
KBCS Program Director Bruce Wirth hosts a discussion on I-1351 with the Yes on 1351 campaign supporter, Shannon McCann, a middle school Special Ed teacher in the Federal Way school district and No on 1351 supporter, Chad Magendanz, Washington State Representative from the 5th district.
Visit our Elections page for KBCS' coverage of issues and candidates in the upcoming election.
Seattle voters will take up the issue of transportation funding for the Seattle Transportation Benefit District Proposition 1.
If approved, this proposition would fund the preservation of transit service on existing routes (primarily serving the Seattle area) proposed to be cut beginning 2015 .  A portion of the funds collected would be to support regional transit service and improved access for low income transit riders.
This proposition would authorize an additional annual vehicle license fee of $60 per registered vehicle with a $20 rebate for low income individuals and authorize a .1 percent sales and use tax.  Both the fee and tax would expire by December 31st, 2020.
KBCS News Director, Sonya Green interviews Administrative Manager and Former president of the League of Women Voters Seattle King County, Allison Feher about the proposition.
You can listen to the interview below:
Visit our Elections page for KBCS' coverage of issues and candidates in the upcoming election.
Last year, the United States deported nearly 370,000 people. That's nine times the number 20 years ago.  Meanwhile, a recent study on trends in Mexico released by the Pew Research Center finds that 34% of its pool said they would like to migrate to the US.  Over 70% said top concerns were with crime, corruption and drug cartel related violence.  This week we look at the real life conditions that draw people from Mexico and other countries to the United States.
Episode 1 & 2 – Former Federal Public Defender, Jay Stansell speaks about current policies toward immigration and the conditions that undocumented immigrants face in the US with KBCS Producer, Yuko Kodama
Episode 3 –  Masahiro Sugano is the Director of the documentary, "Cambodian Son".  He speaks with KBCS Producer, Yuko Kodama about the  some Camdodian Americans who were deported to Cambodia from the US
Episode 4 – Writer and activist, Dori Cahn speaks with KBCS's Yuko Kodama about the conditions Cambodian American deportees to Cambodia are faced with when they are forced to build their lives in a home country they hardly know.