Public radio personalities, reporters and producers are putting up a fight for better pay. KBCS's Yuko Kodama reports from Seattle's University District.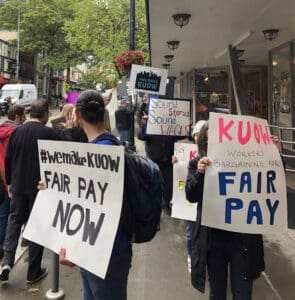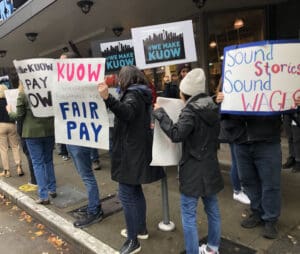 Today is GiveBIG; a Seattle-wide day to celebrate and support local non-profits that add to the quality of life in our region.
Make your GiveBIG donation to KBCS here, or call in your donation at 425-564-5000
Listener support is critical to keeping the news and music you count on from KBCS strong. Private support from listeners makes up 75% of KBCS's budget and ensures that KBCS remains free from commercial influence.
Thank you in advance for your support of KBCS on GiveBIG!
We're giving away a pair of tickets to see the Avett Brothers, Lake Street Dive, and Trampled by Turtles at the Gorge Amphitheater in George, WA on August 10th. Along with the tickets, you'll also get passes to camp at the gorge for August 9-11th.
Don't wait, the drawing will take place at 7pm. Donate now to get automatically entered to win.
While there's no donation required to get entered into the drawing (Drawing Entry Only), your contribution plays a critical KBCS continue to bring you and your community the independent music, news, and information you count on.
We explore our region's original commutes along the water highways of the Salish Sea and Pacific Coast. Listen in on interviews with the late Quileute Canoe Leader, Sunny Woodruff, and United Nations for All Tribes Foundation Board Chair and Makah tribal member, Jeff Smith . Today's story is brought to you by KBCS's Yuko Kodama.
Unmute the Commute is a weekly series highlighting commuter stories, supported in part by King County Metro's Just 1 Trip.
Photos: Courtesy of Jeff Smith