Arsalan Ibrahim's life was turned upside-down one day with the purchase of a West African music CD.  This marked the start of a long journey into deep connection with his ancestry and lineage of storytelling.  Today, Ibrahim is a Jeli of the Mande tradition, using the kora as the vehicle to pass on stories and support the bridge of knowledge between Africa and North America.
Special thanks to Logic Amen and the Griot Party Experience for this story.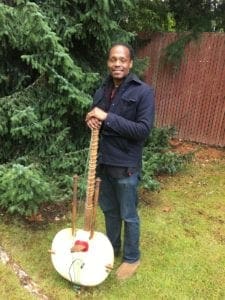 The Griot Party is an event that encourages community healing for all black and brown people whose lives and lineage have been impacted by the transatlantic slave trade.   Listen to Logic Amen, Griot Party Producer, Artist and Educator, speak to what the Griot has symbolized, and the space that the Griot Party events offer for the healing of black men.
Yoni Ki Baat is a growing collection of stories told by South Asian women inspired by Eve Ensler's Vagina Monologues.

In the South Asian community it is often taboo to discuss topics of sexuality and sexual abuse. But South Asian arts organization, Tasveer, hopes this weekend's Aaina Festival will change that.
The festival provides a space to talk about these issues, as well as issues of South Asian identity as collective and as individuals.  The festival takes place May 10-12th at the Seattle Asian Art Museum in Volunteer Park, 1400 East Prospect Street in Seattle.
Sonya Green and her guests explore how the Aaina Festival honors and celebrates the life of South Asian women.
Listen to the interview: KBCS_M&I_20130509_Aaina Festival and YKB
Share this story by clicking the Facebook or Twitter icon on the right side of the screen.
Guests:
Tasveer and Aaina founder, Rita Meher.
Aaina Festival Director , Rituja Korde
Yoni Ki Baat performer, Ashika Chand