You may know Bruce Lee as a martial artist legend and action movie hero. The city of Seattle is where much of his story begins.
Bruce Lee spent his youth in Hong Kong and moved to Seattle at the age of eighteen. Ruby Chow, a family friend, and future King County Councilmember, gave him a place to stay and a job as a waiter at her restaurant.  After settling in, Lee studied philosophy at the University Washington and continued to develop and teach his martial art Jeet Kune Do.  Seattle is where he fell in love with his wife, Linda Emery, and Seattle is where he is buried with his son Brandon. It's estimated that 10,000 people visit his Lakeview Cemetery grave site every year.
The new exhibit Do You Know Bruce? at the Wing Luke Museum of the Asian Pacific American Experience provides us with an opportunity to look back at the movies, writings, artwork and philosophy of the man who revolutionized the modern martial arts, and whose movies are loved by millions. The Wing Luke Museum also offers the Bruce Lee's Chinatown tour that takes you to his favorite haunts.
Listen to segments of interviews by KBCS Producer, Yuko Kodama with Bruce Lee's friends, family and fans, and learn about the true story of Bruce Lee.
Episode 1: Shannon Lee on the cultural impact of her father Bruce Lee
Episode 2: Linda Lee recalls meeting her husband Bruce Lee
Episode 3: Martial Arts Expert and former Champion, Mike Stone on Bruce Lee's individualism and interest in the arts
Episode 4: Martial artist and Attorney, Doug Palmer recounts memories from a trip with Bruce Lee to Hong Kong
Episode 5: Bruce Lee memorabilia collector, Perry Lee on Bruce Lee's journey to Hollywood and beyond

(Special thanks to Asano Ogata for assistance with this project, Music by Gepel)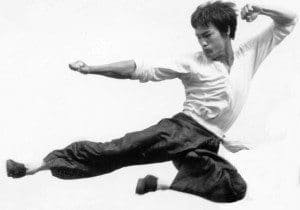 Seattle is home to a special exhibit right now which invites visitors into a thoughtful conversation about race.  It's at the Wing Luke Asian Museum, and it's called Under My Skin: Artists Explore Race in the 21st Century.
In it, 26 artists share their creative visions of race.  They depict the brutal realities of racism in the past and present, the ways race shapes the immigrant experience, and the hope that can be found amidst the complex realities of race in daily life.  Under My Skin: Artists Explore Race in the 21st Century is on exhibit at the Wing Luke Asian Museum through mid-November.
Guests:
Sharon Maeda, former art teacher in the public schools and member of the Wing Luke Community Advisory Committee for this exhibit.
Jasmine Brown, featured artist in the exhibit
Carina DelRosario, featured artist in the exhibit