Producer: Yuko Kodama
The performance, The Ruins of Memory: Women's Voices of the Holocaust highlights the experiences of Jewish women throughout the European continent who navigated their way through a horrific time in the 20th century. It's performed by Talea of the Alchemysts Theatre at Taproot Theater this Friday, Saturday and Sunday.  You can find more information on the event here.
Producer: Yuko Kodama
Photo: by Michael Loggins
Lushootseed  is the language spoken by Coast Salish tribes in the greater Seattle region. In 1819, Congress passed the Civilization Fund Act to assimilate indigenous youth to western culture.  The policy authorized forcible separation of indigenous children from their families to be sent to boarding schools, where they were to be stripped of their language, culture and religious practices.  It wasn't until the 1970's that this practice was outlawed.  Today, members of these communities are reawakening their native language through educational programs.
KBCS's Laura Florez spoke with Lois Landgrebe, of Snohomish, Stillaguamish, Duwamish and Nez Perce descendants, and a Lushootseed educator at Quil Ceda Tulalip elementary school in Tulalip, Washington. Landgrebe describes what it means to be a language warrior.  
Producers: Laura Florez, Yukiko Arichi and Yuko Kodama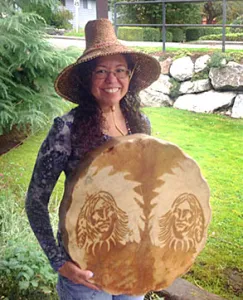 On Saturday, Hundreds of people walked from Tacoma's Tollefson Plaza to the Chinese Reconciliation Park for the annual Walk for Reconciliation Against Racism. The event was to observe the day about 200 Chinese residents in the Tacoma area were forcibly removed in 1885.  KBCS's Yuko Kodama has this story.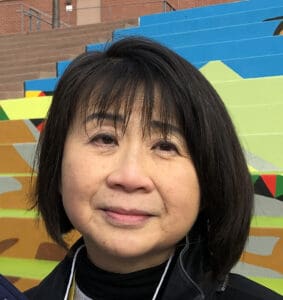 Lotus Perry, Chinese Reconciliation Project Foundation Board Member and Volunteer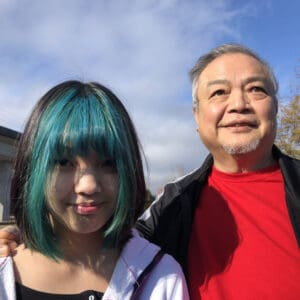 Rinrada Hui and father, Cho Ryong Hui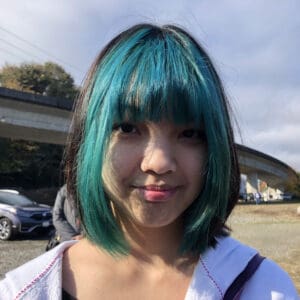 Rinrada Hui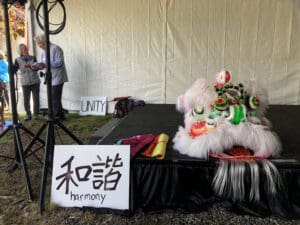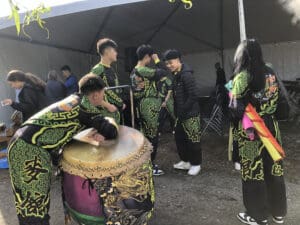 Mak Fai Kung Fu Lion Dancers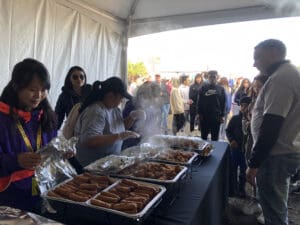 Food prepared for walkers at the end of the walk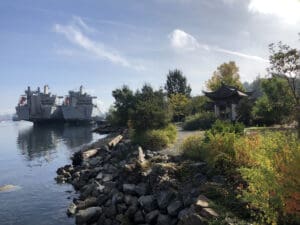 Chinese Reconciliation Park
Last week, King County scrapped their plans for a homeless shelter expansion on the edge of Seattle's Chinatown International District (CID). Listen to why elders from the CID came out in numbers to protest another homeless shelter in this neighborhood and what they demand now.
KBCS reporter, Kevin P. Henry interviewed two, local, Black mental health counselors. They discuss how Black communities and communities of color can be emotionally impacted and traumatized in hearing about these racially motivated incidents. Find out how this may play out among friendships and co-workers, and some suggestions on how to help. (more…)
Carolyn DeFord is an enrolled Puyallup member and is from Nisqually and Cowlitz descendants. Her mother, Leona Lee Clare Kinsey has been missing for over 20 years. DeFord shares what she's come away with from this tragedy with KBCS's Yuko Kodama (more…)
Dulce Garcia, Executive Director at
Border Angels
gives us an update of Ukrainians and other migration patterns at the border.
Producer: Yuko Kodama
Photo: Dana Schuerholz
What's happening on the ground in Poland where Ukrainians are fleeing to by the thousands? A local Sammamish resident and his brother are there to help.
Here is information on their project, Suitcases for Ukraine.
Producer: Yuko Kodama
Photo Credit: Lance and Thury Foster
Gerald Donaldson is a Family Support Worker at Leschi Elementary School in the Seattle Public School System. He assists families who need help, so the children at Leschi can thrive in school.

Donaldson describes the challenges through the pandemic (from our interview with him last spring), and gives a more recent update of where many of his families are in their support needs now.
Producer: Yuko Kodama
Photo: Yuko Kodama