Music of the Moment: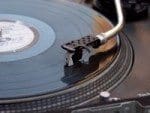 April 4, 2014 - 9:22 am
Five new releases that we can't wait to share with you this month:
1. Rodney Crowell Tarpaper Sky (New West) – Rodney continues to pen deceptively simple songs that hold brilliant nuggets of wisdom.
May you always stay in touch with the things
That keep you young.
When you're staring at injustice
May you never bit your tongue.
He is certainly not an artist resting on his laurels.
2. Thievery Corporation Saudade (ESL) – 7th album from this DC duo, incorporating downtempo Brazilian grooves. It evokes the ghosts of bossa nova, warm sunshine and gentle breezes.
3.  The Henry Girls Louder Than Words (Beste Unterhaltung) – These Irish sisters seem to be hitting their stride on their 5th release. The U.S. is late to the party where their music is concerned, but if you like creative folk music with beautiful harmonies, then be sure to give their music a listen.
4. Bryan Sutton Into My Own (Sugar Hill) – Bryan is the 'go to' guy in Nashville for anyone looking to add brilliant guitar playing on their record. He's played with everyone from Dolly Parton to Harry Connick, Jr. to Lionel Ritchie, and all points in between. His new solo recording finds him adding his lovely voice to his picking skills, all of which makes for a truly wonderful recording.
5. Natalia M. King SoulBLAZZ (Jazz Village) – This Brooklyn native started her music career in a LA blues-rock trio. In due course, she gave it all up, bought an acoustic guitar and a one-way plane ticket to France. There she found success as a solo artist. This description of her new album says it best: "Her songs blend the spirituality of soul, the intensity of the blues, the aestheticism of jazz and the energy of her rock roots. So don't be surprised should your ears detect the spirits of Nina Simone, Thelonious Monk and Janis Joplin."
KBCS Top 3 of March 2014:
1. Sierra Leone's Refugee All-Stars Libation (Cumbancha) – Their 10th anniversary and album finds these gentlemen celebrating their musical roots, their many blessings and their musical heritage.
2. St. Paul & The Broken Bones Half The City (Single Lock) – Lead singer Paul Janeway possesses a voice that immediately captures your ears, and his band's retro soul sound matches it perfectly.
3. Alsarah & The Nubatones Silt (Wonderwheel) – Debut recording for this NYC group. The album depicts the fusion of music occurring in the 1970's in Arabic & North Africa musical influences; it has its musical roots in the Nubian "Songs of Return".