Chocolate: Where It Comes From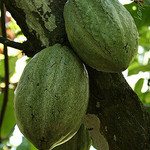 April 10, 2015 - 12:02 pm
The worldwide demand for chocolate is growing.  Industry sales are worth 18 billion in the US, and the world chocolate market is expected to rise to over 98 billion by 2016.  This series features chocolate from the cacao farms to chocolate making in the United States.
Episode 1 – Lauren Adler is the owner and Chief Chocophile of a craft chocolate bar shop, Chocolopolis.  Adler explains artisan chocolate making and how it differs from mass market chocolate bars.
Episode 2 – Theo Chocolate's cocoa sourcing manager, Nathan Royston explains the journey of their cocoa beans.
Episode 3 – University of Washington, Bothell faculty in global studies and African Studies, Dr. Kristy Leissle describes where our chocolate comes from.
Episode 4 – Dr. Kristy Leissle gives us a peek into the lives of cacao farmers.
Episode 5 -Dr. Kristy Leissle  talk about some social efforts within the chocolate industry.
Photo: Kenya Allmond
Music: Gepel – song is "El Sol"
Producers: Ruth Bly and Yuko Kodama