Music of the Moment: February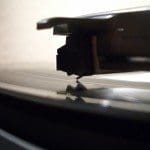 February 1, 2016 - 12:01 am
Tekla Waterfield  This Nightlife Is Wearing On Me
This former member of Seattle's BLVD Park has released a mighty fine solo debut. This is country like The Delines or Shannon McNally are country, that is, uptown, bluesy, and mellow. A perfect late night album to contemplate the city lights.
Eli West  The Both
Seattle based multi-instrumentalist, singer, and long-time collaborator with Cahalen Morrison, has released a unique collection of 6 songs, each with two takes. The first 6 performances are vocal duets. The second time around they're done as instrumentals. Each track pairs Eli with at least one other equally superb musician. What, in lesser hands, could easily become a bad idea, is instead a deep and lovely album honoring and stretching the folk tradition.
Hinds  Leave Me Alone
Riot grrrl-esque rockers out of Madrid – and in my imagination, a Spanish garage – reminiscent of The Raincoats or Bratmobile. This is fun, loud, messy, jangly music, and someone – maybe you – will definitely fall down while spinning this album.
Seinabo Sey  Pretend
Superb pop from this young singer. Daughter of legendary West African musician, Maudo Sey, Seinabo Sey grew up in Gambia and Sweden and draws inspiration from the reggae and Sufi music of her childhood and the music of Lauryn Hill and Beyoncé. Her voice will cut right through the din of your commute.
Dori Freeman Self-Tilted
A terrific debut release from this Galax, VA singer-songwriter. Her voice is simply beautiful; country without affectation. The album, produced by Teddy Thompson, slides between folk, country and pop, and while you can hear the past interwoven through the songs, she is clearly looking toward the future.
– Iaan