A Day At The Bus Stop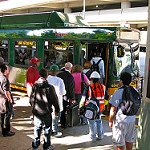 August 4, 2016 - 11:58 am
What happens at a bus stop throughout the day? In this special edition of What's the Flux: Commuter dispatches, lead Producer, Mona Yeh and Producer, Yuko Kodama sent reporters out to visit some of our region's busiest bus stops over a 24 hour period. You'll listen to the rhythm at popular transit centers in our region, and what riders say about their commutes.
What's the Flux: Commuter Dispatches and KBCS partnered with the Seattle Globalist to examine the ridership at bus stops in our region with an interactive map.
Reporters: Karl Benitez, Mimansa Dogra, Kendra Hanna, David Joseph, Varisha Kahn, Yuko Kodama, Casey Martin, Hassan Noor, Jenny Phan, Trevor Pogue, Brie Ripley, Chetanya Robinson, and Randy Salgado.
This story was edited by Yuko Kodama
The project was sponsored by the Association of Independents in Radio (AIR) as part of its national initiative, Localore: Finding America. #Finding America