Native Efforts To Prevent Fossil Fuel Projects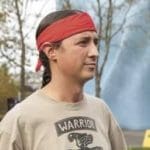 November 25, 2017 - 5:08 pm
In this series, Matt Remle, a local Lakota activist, describes his experience in advocating for divestment fromfossil fuel projects.
Part 1 – Matt Remle describes how he advocated for the City of Seattle to divest from fossil fuel projects, He shares his perspective on how Wells Fargo Bank, a funder of the North Dakota pipeline, became a target of protests.
Part 2 –  After the City of Seattle divested from Wells Fargo Bank, Remle continued his work in efforts to ensure that other fossil fuel projects will not be invested in.
Part 3 – Remle describes how funding which was previously destined fossil fuel projects, could be reinvested in other local causes.
Part 4 – Remle describes how the Kinder Morgan's Tar Sands pipeline project may impact our Puget Sound region.
Part 5 –  Remle shares a story of what keeps him inspired to continue his work.
Producer: Yuko Kodama
Photo: Provided by Matt Remle