KBCS Concert Club Drawing – June 2018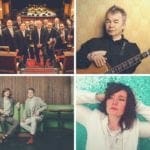 May 25, 2018 - 4:22 pm
Join the KBCS Concert Club to support the music you love, and get automatically entered to win tickets every month!
This month, you could win tickets to Spanish Harlem Orchestra, Frazey Ford, Jason Isbell/Aimee Mann, John Prine, Milk Carton Kids, Greg Brown, Dirty Heads, Dispatch, HoneyHoney, and Adam Ant/The Fixx. As a Concert Club Member, you'll also receive the official Concert Club hoodie!
Find out more about the KBCS Concert Club HERE.