Volunteer Spotlight September 2018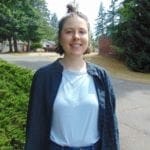 September 13, 2018 - 10:49 am
Volunteers are the heart and soul of KBCS. This month, we're spotlighting membership volunteer, Lisa Jaech.
1.) Where did you grow up?
I was born and raised in the Seattle area.
2.) How did you find out about KBCS?
I am passionate about independent radio in general and have always sought out independent radio stations wherever I've lived. After moving back to Seattle in 2015, I started to research local radio stations more and developed a special connection to KBCS because of its refreshing, unique content.
3.) When and why did you first get interested in (the genre of your show/journalism)?
I have been interested in the inner workings of independent radio since my time on the student executive board of the University of British Columbia's radio station, CITR. I like working behind the scenes and learning about the work that makes independent radio possible.
4.) How long have you volunteered with KBCS?
About 4 months.
5.) When you're not at KBCS or working, what are you doing in your free time?
Riding my bike, playing the flute, watching documentaries, and looking at dogs.
6.) What do you love most about volunteering at KBCS?
I like that I have been able to do a wide variety of tasks, from stuffing envelopes to taking photographs around the station. This way I'm always learning something new.
7.) Tell us one fun fact about yourself, or something that might surprise us about you.
I recently took up whittling.
8.) Who is your biggest influence in life or in the work you do at KBCS?
Probably Peter Gabriel, for inspiring me to play the flute and be unapologetically weird in life and art.
9.) What was the last good book you read or movie you watched?
I just finished the "Best American Short Stories" of 2017. I like short stories, and it's interesting to see which ones get selected for each year's edition because they usually share certain timely themes.
10.) If you could have one superpower, what would it be and why?
I'd like to stop time every now and then.
11.) Do you have anything you'd like to share about your experience/time at KBCS?
I really appreciate that KBCS exists, and I wish more people knew about it!
12.) What is/are your biggest pet peeve/s?
Motorcycles.
13.) If you could be anywhere else right now, where would that be and why?
I always want to go back to the Olympic Rainforest and be around the giant trees.
14.) What is the most challenging part of the volunteer work you do at KBCS?
Calling people on the phone, but it's good practice!
15.) Is there anything else you'd like to share or add?
Nope!