Go-to Quarantine Albums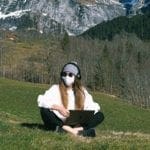 April 7, 2020 - 3:30 pm
Our Music Director, Iaan Hughes, reached out to KBCS DJs, local artists, and friends to find out their go-to music choices to get through these tough times.
Check out some of their selections then share what album is getting you through the day. (Share your album pick here)
Aline Vida and Wes Speight (Local Artists)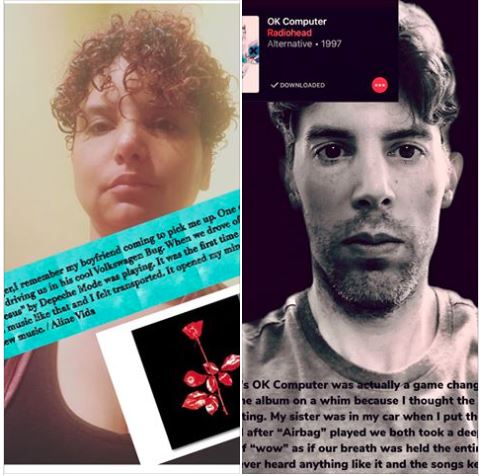 "As a a teenager, I remember my boyfriend coming to pick me up. One of his friends was driving us in his cool Volkswagen Bug. When we drove off, "Personal Jesus" by Depeche Mode was playing. It was the first time I'd ever heard music like that and I felt transported. It opened my mind to all sorts of new music." Aline Vida
"Radiohead's OK Computer was actually a game changer for me. I bought the album on a whim because I thought the album art was interesting. My sister was in my car when I put the CD in my player and after "Airbag" played we both took a deep exhaled response of "wow" as if our breath was held the entirety of the song. I'd never heard anything like it and the songs kept getting better as the album progressed. It's a masterpiece." Wes Speight
John Gibaut (Sunday's Hornpipe DJ)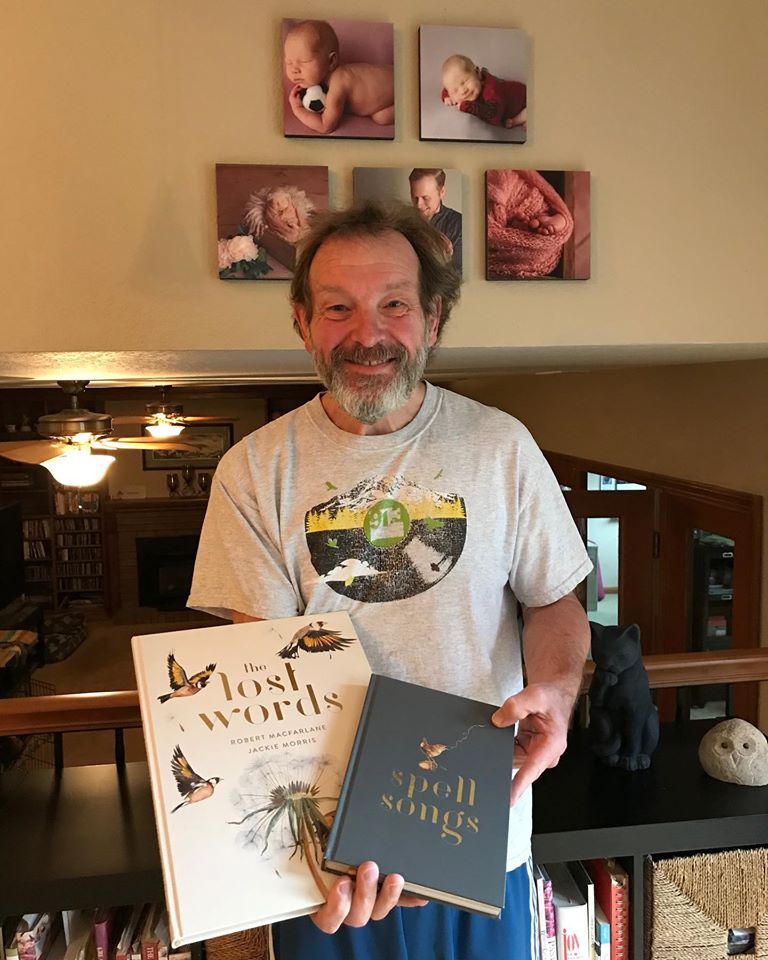 "Another week on Quarantine Island. Trying to select one album in the Celtic Music genre to take to the island is an impossible task for me. There are the albums of bands and individuals that first drew me in to the music; those that have maintained and expanded my interest; there are numerous albums, all classics, that would be on many peoples all-time top-ten lists; there are amazing tracks that highlight near perfection in playing and singing; there are tunes that are a pure joy to listen to, heart-string plucking and inspirational. An impossible task indeed.
A few years ago the Oxford Junior Dictionary was updated. This resulted in many common everyday words, that connected to the natural world around us, being removed because children infrequently used them. Words such as acorn, conker, heron, magpie, and willow. The author, Robert Macfarlane, and the artist, Jackie Morris, were inspired to create a beautiful tome, 'The lost words'. The inspiration continued spreading and eight contemporary folk artists gathered together to produce musical joy. The voices of Julie Fowlis, Karine Polwart, Kris Drever and Seckou Kieta; combined with the musicianship of Beth Porter, Jim Molyneux, Kerry Andrew and Rachel Newton; resulted in an album, The lost words: spell songs', being released last year.
I have played this many times already on Sunday's Hornpipe and will continue to do so. I do this for the simple reason that it is an inspiration and generates a feeling of hope, of a deep connection through nature that brings us closer together. At times like this, where we are all having to isolate ourselves to protect the whole population, this feeling of hope and connection is invaluable for our own peace.
Whilst out walking my dog each morning, I can't help but notice how quiet it is. Very few aircraft flying overhead; only a faint echo of the sound normally generated by the motorway; a silent range near-by. Instead the birds merrily sing and chatter whilst the trees rustle, even without leaves. The creeks flow and the sounds echo up to my ears. After the winter, the new life of spring is all around. The music from spell songs compliments this feeling of connectiveness, of recovery and growth, that hope springs eternal."
Kirk Reese (Local Artist)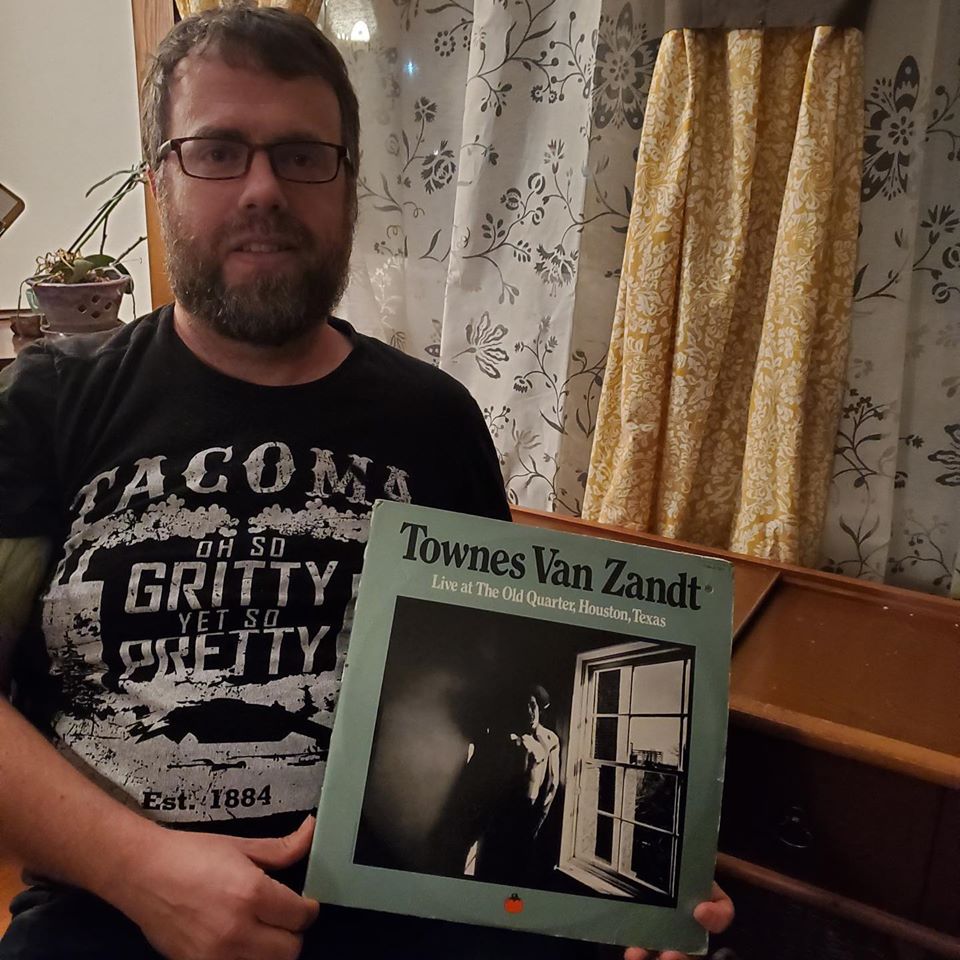 "My album is Townes Van Zandt's Live at the Old Quarter, Houston, Texas."
I love this album because it completely changed my musical path. One guy, one guitar in a Texas bar. Such powerful songs and heartfelt delivery. Simplicity at its finest."
Mike Biggins (Sunday Folks DJ)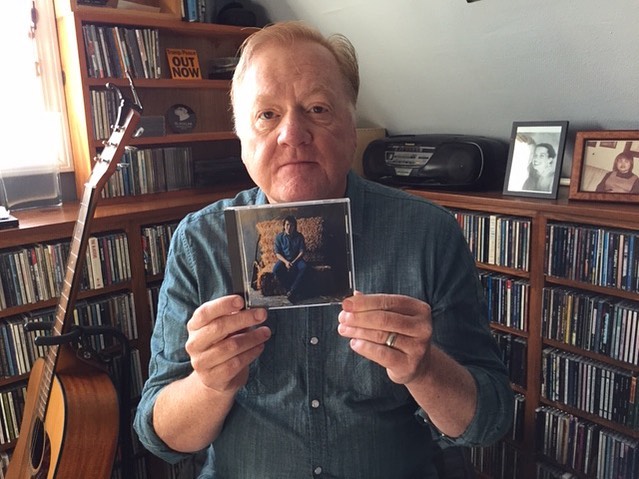 "If you have to be isolate, you may as well bring some "Friends" along, like Donald and Lydia and Sam Stone and the other distinct personalities that fill up all the contours of these songs. You even get to take a side trip to "Paradise". Steve Goodman finally coerced Kris Kristofferson to come hear his friend play at the "Earl of Old Town", in Chicago, on a Sunday night in 1971. The result, a record contract with Atlantic and a session in Memphis helmed by Arif Mardin.
John Prine, the self-titled album, from 1971, is as timeless as they come. From "Illegal Smile" through "Flashback Blues", songs that still sound fresh fifty years later. Self isolating with these time tested songs, while I make me a poster of an old rodeo, gives me hope that we can survive this test of our time and look forward to the next time I can say hello in there on KBCS."
Chairman Moe (80s Music DJ)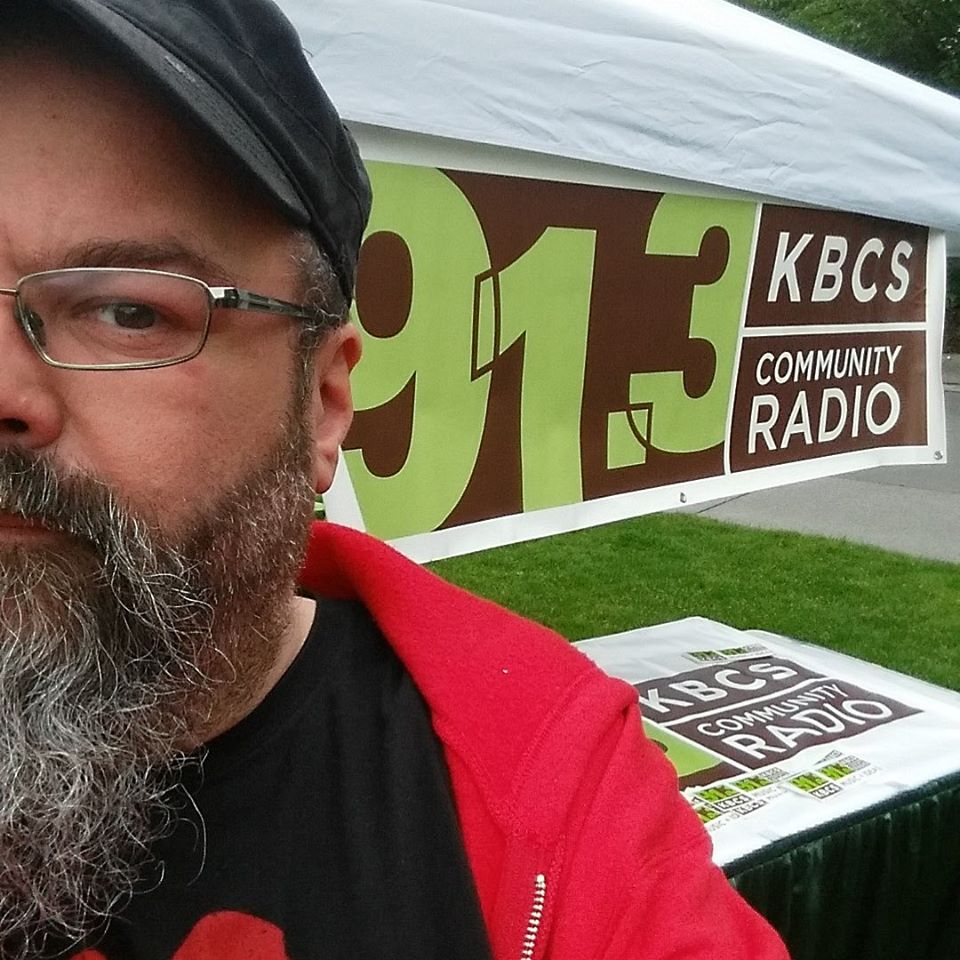 "The Bolshoi and their 2nd album Friends – it's a great sophomore effort from the label mates of Bauhaus. That was enough to lump them into the "goth" genre but their dark themes were mixed with a light pop sound that is quite dance-able. The album was successful off the power of tracks like Sunday Morning, Away, and Looking For a Life To Lose.
Any Trouble and their debut release Where Are All the Nice Girls? – these guys were the red headed step child of a British rock movement that included Elvis Costello, Nick Lowe, and Dave Edmunds… they didn't necessarily look like musicians but they had a great sound that was fresh and a little different. The album has some great tracks like Yesterday's Love, Second Choice, and the title track.
The Three O'Clock's debut album Sixteen Tambourines is a great example of the Paisley Underground movement that was making noise in southern California in the early 80s. – With Jet Fighter, Fall To The Ground and a sweet Bee Gees cover, this is a fun album to make a day feel better.
And, I need some Canadian Content – I'd go with the debut album from Platinum Blonde…or, if you're really cool, you'd get their 6 song EP that was released the year before. These guys were a mix of social awareness and aqua net that could only happen in the early 80s. They were reaching U2 levels of social awareness before throwing it all away with their second album."
Larry Lewin (Our Saturday Tradition DJ)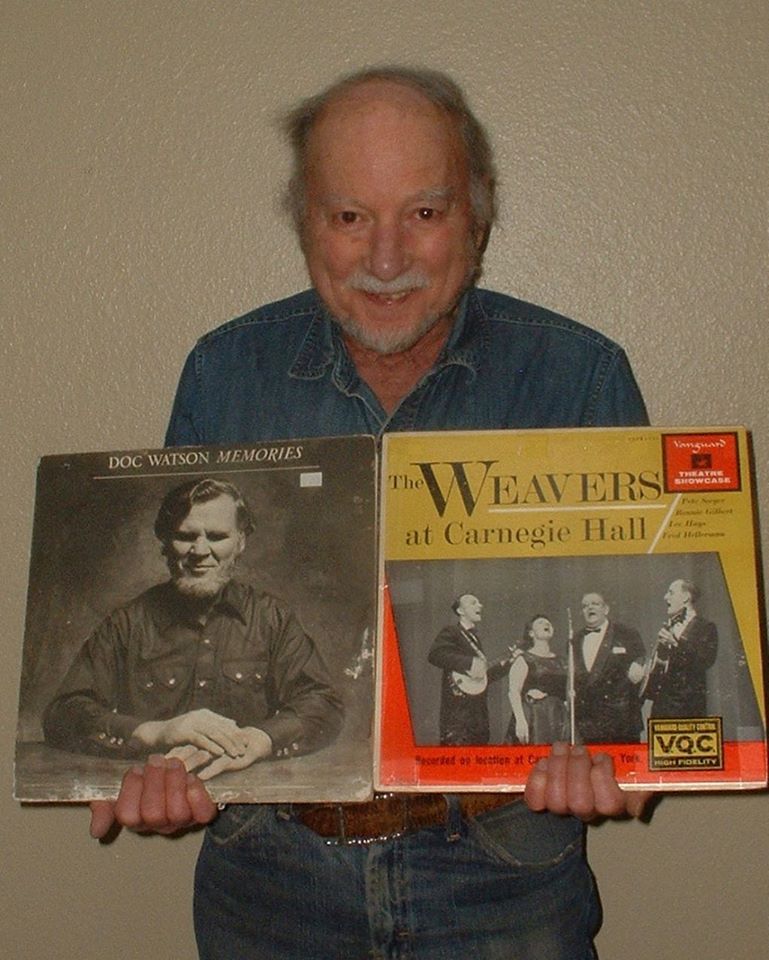 "I chose the Weavers for historical reasons. Their concert at Carnegie Hall took place on Christmas Eve 1955. Some ethnomusicologists are of the opinion that it was a seminal event that ushered in the folk music revival of the late 50s. The Doc Watson "Memories" album is my favorite of his.
It was released in 1975 and later re-released on CD. This is a beat up copy of the original vinyl version. I'm not sure who gave it to me, but I think it was Eric Linn, a co-host of Sunday's Hornpipe many, many years ago. I hope they have turntables on remote desert islands."
Paula Boggs (Local Artist)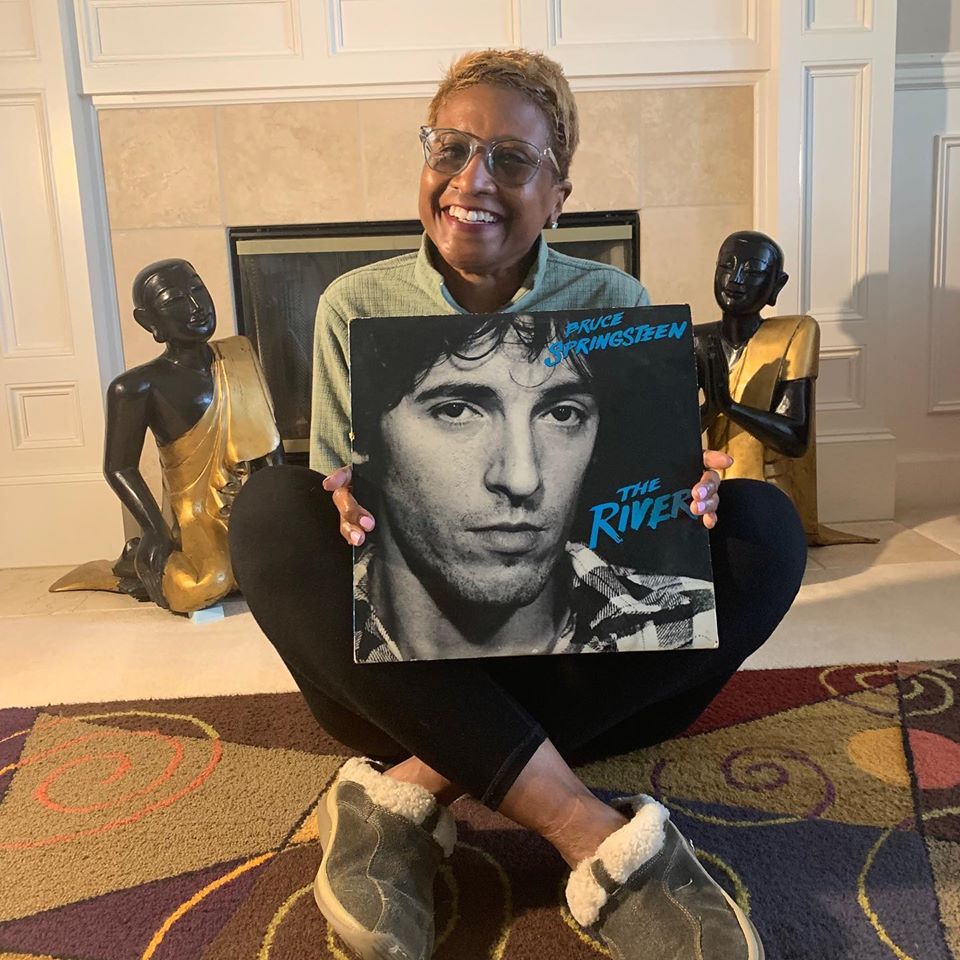 "My album quarantine jam is Bruce Springsteen's 1980 20-song The River for it's length, songwriting prowess, soulfulness and mood diversity. I have a strong emotional connection to the album. After college in Baltimore (and Bruce was a god in Baltimore) I drove cross-country to Berkeley, California by myself site yet seen.
The album comforted as I left the familiar towards unknown heading west on Interstate 70. Spinning in my 1979 Toyota Corolla cassette player though, title song "The River" (Track 11) triggered an inconsolably bawling response. "Now those memories come back to haunt me. They haunt me like a curse. Is a dream a lie if it don't come true or is it something worse?"
Rus Thompson (Road Songs DJ)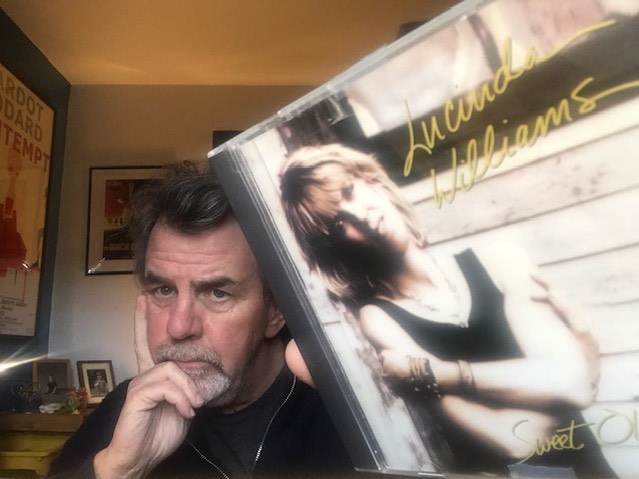 "If I had my way, I'd be in your town," is the plaintive first line of Lucinda Williams "Something About What Happens When We Talk," a song that reminds us how just the sound of a lover's voice on the phone can get you through a lonely night. It has a particularly acute resonance in these virus days, when we're all learning that texting is overrated and a good old fashioned phone call still has a place in our world.
The song is one of the many that guts me every time I listen to Sweet Old World, a collection of evocative laments for the small fleeting moments of living. "Looking for some truth, dancing with no shoes," from the title track, may be the best phrase in Lucinda's entire canon."
Gol Hoghooghi (KBCS News Volunteer)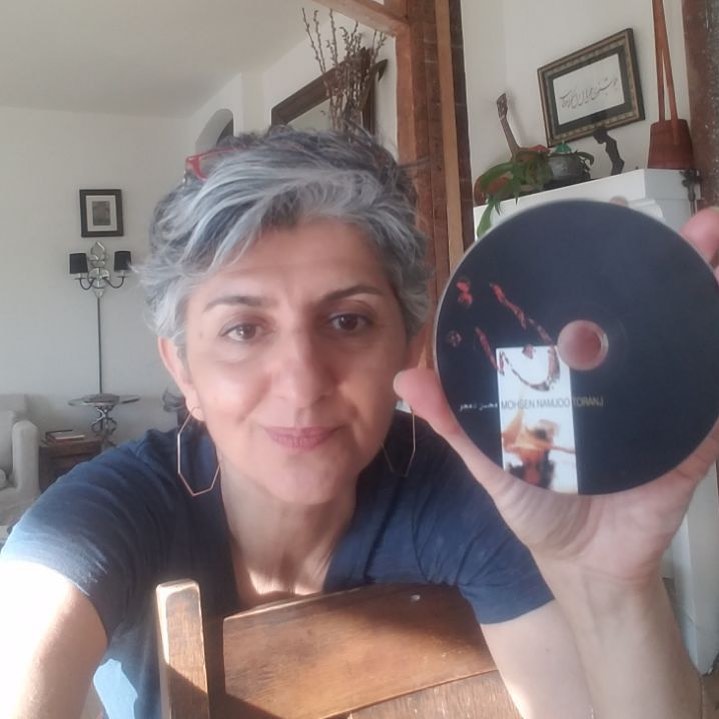 KBCS News Reporter Gol Hoghooghi shows us the 2007 album Toranj by Mohsen Namjoo – her quarantine album pick.
What are you listening to? Share your quarantine album pick here.
Gordon Todd (Mostly Acoustic DJ)
Gordon Todd has picked his quarantine album: Nick Drake's Pink Moon. Catch Gordon on KBCS at 6pm on Sundays; his mellow vibes might just be exactly what's needed on this Sunday evening.
"Nick Drake's Pink Moon is the perfect desert island album for my mostly acoustic show. Now if we could only self isolate on a sunny beach."
Niko (90s Music DJ)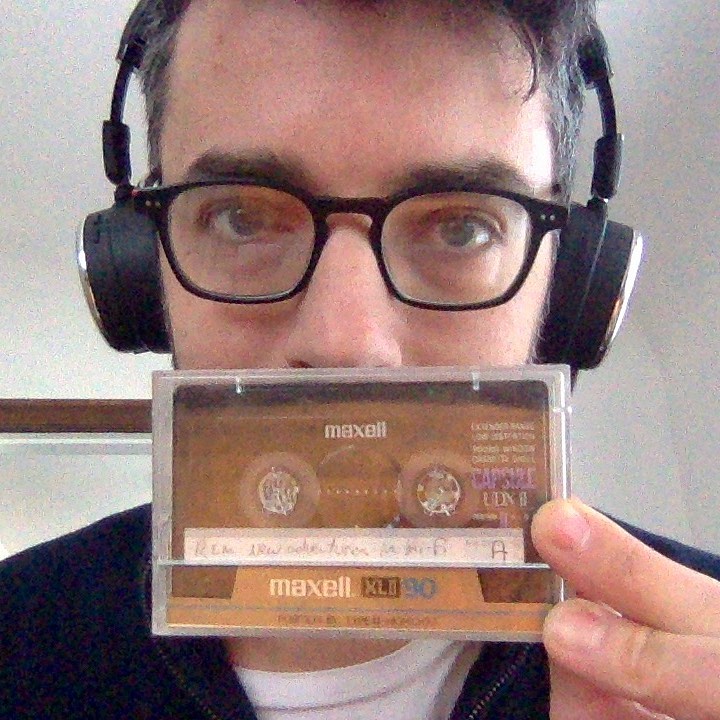 "My desert island / quarantine choice would be New Adventures in Hi-Fi (Warner Bros., 1996), which finds REM at their most experimental and sprawling. This is a record to get lost in. Hi-Fi clocks in at 65 minutes, which in the vinyl days would be a double album, making this their White Album in my book—you get moody jazz/hip-hop explorations, classic REM pop ballads, rock songs built around noisy samples, a soul-searing duet with Michael Stipe hero Patti Smith, odd little instrumentals, and perhaps the band's greatest love song, "Be Mine."
While making Hi-Fi they talked about being influenced by Radiohead's The Bends, and at the 1998 Tibetan Freedom Concert Yorke joined REM on stage, to sing a song of his choice from their entire catalog—he chose "Be Mine," and the results are spellbinding. Track it down on YouTube, you won't be disappointed. Above you'll see me, quarantined like the rest of us, with my cassette copy from back in the 90s, dubbed no doubt from my pal @mnedbalsky, who always had better taste than I did. 😀 Stay safe out there, fellow music lovers."
Amanda Winterhalter (Local Artist)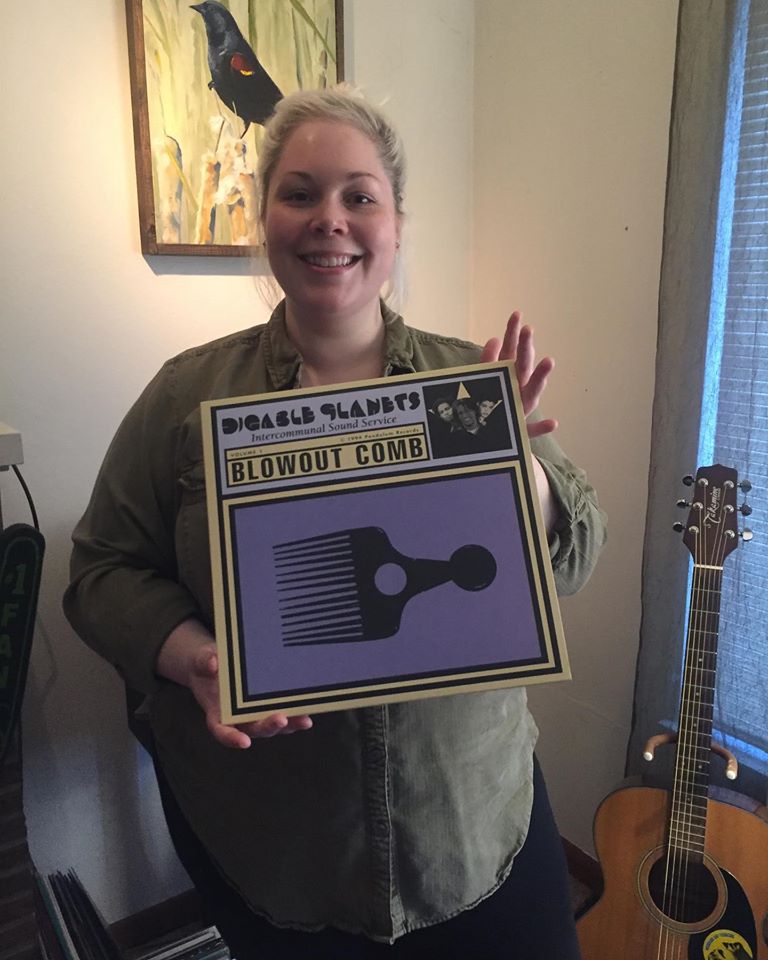 "Blowout Comb by Digable Planets. My upright bassist, Geoff Larson, turned me onto this album a few years ago when we were talking about awesome bass lines in hip hop (like The Low End Theory – another great quarantine record). I love the blend of the ensemble work and the instrumentation and jazz influences – it's got grooves for days. My favorite track is "Black Ego" – the combination of sampling from Grant Green's "Luanna's Theme" and Huey Cox's guitar solo are mesmerizing."