Celebrate Pride with Bellevue College
June 4, 2021 - 8:27 am
Happy Pride 2021!
A riot in a San Francisco restaurant in 1966 illustrated (although sadly not for the first time) how the LGBTQ+ community needed to hide from systems designed to oppress them. Following this LGBTQ+ riot and subsequent others, the first Pride march, in 1970, demonstrated the power of showing up, publicly and authentically. The fifty years since have been a rollercoaster of rights given and taken away, of increasing support and increasing politicization, of greater safety for some and greater dehumanization of others.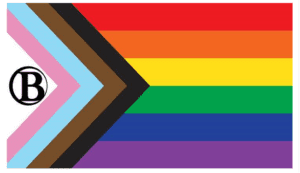 Pride 2021 celebrates how far we've come, and how we as a community can celebrate our true selves. It also calls attention to the continued injustices faced by our disabled, neurodiverse, BIPOC (Black, Indigenous, People of Color), and immigrant families. And it spotlights the increased political threats faced by the transgender community, with more than 100 bills introduced in state legislatures in 2021 that delegitimize the lived experiences of people just wanting to be themselves.
So, Pride is both a celebration and a call to action. And we invite you to join the Bellevue College LGBTQ+ community for all of it. Below is a tentative list of the events for BC Pride 2021 (more details to come):
June 4, 1pm-2pm: Schuyler Bailar (the first transgender NCAA D1 men's athlete) – in conjunction with the Asian Pacific Islander Student Association (Zoom link)
June 9, 3pm-4pm: How to Advocate for Communities and Causes (BC faculty and staff only) (Zoom link)
June 10 (TBD): Addressing the Anti-Trans and "Sports" Bills
June 11, 12pm-1pm: Lavender Graduation (with special guest Goddexx, La Espiritista) – Register by June 6th to attend!
June 15, 2pm-3:30pm: QTBIPOC Hangout (BC students and employees of color who identify as queer/trans only) (Details to come)
June 16, 2pm-4pm: Hang Out with Pride on Gather Town! (BC students and employees who identify as queer/trans only) (Details to come)
June 18 (TBD): Drag Show and Meet-and-Greet
We will send out details of the Bellevue College events closer to their dates. Here are some other local and national events to engage with:
For questions about Pride events at BC, please email sapan.parekh@bellevuecollege.edu.
We hope that you will be able to join us for these events. Good luck on Finals, and Happy Pride!
LGBTQ+ Task Force Steering Committee: Dr. B, Liz Hollerman, Sapan Parekh, Molly Jae Vaughan, Justyce Wright, Argus Ortman