Black Coffee Northwest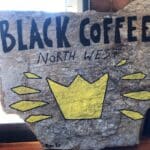 August 6, 2021 - 8:07 am
Empowerment and racial pride are paramount for the Black community. Despite centuries of oppression, many African Americans strive to start and maintain their own businesses to create personal and generational wealth. Black businesses such as barbershops and eateries, along with churches, have historically been safe social harbors for community members.
When Darnesha and Erwin Weary opened Black Coffee Northwest in Shoreline in the fall of 2019, their dream had come true. Black Coffee would serve great coffee, friendship, and be a haven where the community could congregate, and youth and adults could be supported through a variety of educational programs and public events.
Instead, the Wearys have dealt with an attempt to burn down the building, verbal racism toward their employees, swastikas on the side of the building, and most recently, a burglary. KBCS's Kevin P. Henry recently interviewed several people who have invested in Black Coffee and don't plan to stop. The interviews are from January, 2021, not long after swastikas were painted on their building.