Increased Attacks on Houses of Worship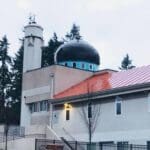 October 22, 2021 - 12:43 pm
The Washington state chapter of the Council on American-Islamic Relations (CAIR-Washington) called on law enforcement authorities to investigate a possible bias motive for vandalism targeting  Umar Al-Farooq mosque in Mountlake Terrace.
The attack was caught on security camera footage.  It shows the suspects walking into the mosque with shoes on and removing items from the facility's sound system. Cameras then show them gathering the mosque's Qurans and other religious items into trash bags before throwing them into a nearby dumpster.
This is another incident in a string of attacks directed at houses of worship over the past month.  Others within Washington state include the Islamic Center of Tacoma, targeted in an arson attack, which caused extensive damage to the facility earlier this month.  Last month, a Sikh temple – the Gurmat Khalsa Center in Federal Way – had its door smashed and several items stolen from the facility. 
Producers: Fadumo Ali, Yuko Kodama
Photo: Masjid Umar Al-Farooq
0:00
KBCS. A mosque in Mountlake Terrace was vandalized, leaving the community shaken KBCS is for Fadumo Ali speaks with Washington Council on American Islamic Relations or CAIR Washington Executive Director, Imraan Siddiqi.
0:16
Tell me about the most recent vandalism in the Umar Al-Farooq mosque, in Mountlake Terrace. What happened there?
0:23
The community there, had completed their afternoon prayers. So this was between afternoon and late afternoon prayers, and two individuals a man and a woman came in and essentially started going through like the audio system, like the sound system over there. I think they removed some items from the wall during the course of this invasion, they were wearing shoes inside the prayer space of the mosque, which is obviously a violation of, you know, the sanctity of the mosque. You know, Muslim worshippers are supposed to remove their shoes when coming into a mosque in and put their shoes on the side. So they were intentional about coming into the prayer space while wearing their shoes. During the course of this invasion, they also went to the bookshelves and started removing Qurans and religious artifacts from the shelves and started packing them into black garbage bags. And what the security footage shows is that they took these garbage bags filled with Qurans and other religious items, and they threw them in a nearby dumpster. And so obviously, this is something that is disturbing for the community to see because it's one thing to have a mosque invasion or burglary take place, but this seemed to have some type of bias involved in it where these people are really trying to send some type of insulting message to community members. And usually these mosques are supposed to be welcoming spaces and places where our communities come together and mosques like this Mountlake Terrace, Islamic Center are very open in terms of their doors were unlocked because they encourage people to come in if they had questions about Islam and Muslims, but in this case, this duo of of people they decided to go and commit such a insulting crime and the reason why we felt it was important for us to speak up because this is not just like an isolated incident. This is in the larger context. There's been three houses of worship that have been vandalized or attacked on different levels over the course of the past month. There was a Sikh gurdwara in Federal Way, which was broken into and 10s of 1000s of dollars of items stolen from their facility. And then a mosque in Tacoma was also firebombed as well, while worshipers were present inside the mosque and due to the fire, there was extensive water and fire damage that was incurred by that attack. So now, the Tacoma Community has lost their place of worship and are going to have to extensively rebuild in order to even just get back to their facility.
3:21
Nationally, Moscon, Indiana, Texas and Michigan have also been vandalized. Could you tell me more what you think may be behind the string of incidents?
3:30
Yeah, it's it's it's difficult to say hates has existed in American society throughout our nation's history. It just manifests itself in different ways. During the Trump era, we obviously saw a great deal of increase in anti Islam sentiment that was being espoused from the White House and in on many different levels in society. But even in the aftermath of the Trump era, no matter who's in office, this sort of xenophobia and anti-Muslim sentiment still exists. It just manifests itself in different ways. You have things that are brought to the forefront where global geopolitical issues may be politicized, like the Afghan evacuation with potential of Afghans coming to Washington State, for example, you see a lot of anti-refugee sentiment starting to bubble up in Western societies again. And then, hate hasn't gone anywhere. Just because the person in office may have changed on a presidential level doesn't necessarily mean that the people who who have espouse this hate and xenophobia throughout the years have, you know, just retreated. So I think we have to, as communities of color and marginalized communities always be cognizant of these facts and we can't let our guard down regardless of of who may be in office during a certain time. You know, things like the Christchurch New Zealand Shooting a few years ago where over 50 Muslims were killed in their house of worship where it was a wake up call for many people. You have, you know, the shooting in Charleston, South Carolina, we're Dylann Roof walked into a Black church. You have the Oak Creek Wisconsin, shooting at a Sikh temple and the Quebec City shooting a few years ago in Canada as well. So these types of attacks, you know, escalating violence, and arsons, and even mass shootings are something that are still a very real threat from a public safety perspective. Our communities need to understand that we need to keep our community safe.
5:39
That was CAIR Washington Executive Director, Imraan Siddiqi. Speaking with KBCS's Fadumo Ali. CAIR Washington is working with local mosques and community members to increase and broaden security protections.
5:54
For more KBCS stories and to support our work with a donation you can visit KBCS.fm.