KBCS Mourns the Loss of Doug Paterson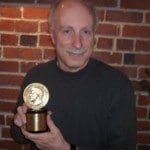 March 14, 2022 - 5:11 pm
We are deeply saddened to learn of the death of Doug Paterson, our beloved host of The Music of Africa. He was 72 years old.
For 30 years at KBCS and Bellevue College, Doug volunteered his time to showcase the very best in African music. His dedication was an extraordinary act of service to his community and we are all better people and better listeners for having known him.
Doug grew up in Puget Sound and fell in love with the burgeoning PNW rock and roll scene at a young age often recording live shows off his radio using an Ampex reel-to-reel machine. Some of his tapes include early live performances of The Sonics!
Doug studied cultural anthropology and earned his undergraduate degree from the University of Washington in 1972. He was then invited into the graduate program at UW to study African languages and linguistics. He was awarded a PhD in Cultural Anthropology from the University of Washington in 1984. During a break from his studies in 1974 Doug traveled extensively throughout Eastern Africa where he became immersed in the African music scene and that was to become one of the great passions of his life. In Kenya he would also meet his wife Annah.
Doug's love of music was of a giving sort. He was driven beyond spinning the albums of the music he loved and worked on many records and compilations, including Kenya Special and Nairobi Beat, to name just two. He also wrote extensively about East African music during his lifetime.
In 1991 he hosted his first radio show at KSER in Everett. In 1993 he came to KBCS and started The Music of Africa show, which he hosted twice a month every Thursday ever since. Doug was also a long time employee at KUOW where he engineered numerous recording sessions. 30 years is a long time to give to community radio, yet somehow as listeners and fans it wasn't even close to being enough.
We send our love to Doug's family, friends, and fans. We are forever grateful.