Muslimahs Against Abuse Center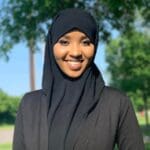 April 28, 2022 - 1:40 pm
MAAC or Muslimahs Against Abuse Center is an organization dedicated to assisting victims of gender based violence.  Listen in on how this group can fill in spaces for those in need in our community. 
Other leaders to assist people who are going through domestic abuse are Somali Family Safety Task Force in Seattle's Rainier Valley and Mother Africa in Kent.
If you or someone you know is experiencing domestic violence, you can call, chat and text the National Domestic Violence Hotline 800.799.SAFE (7233).
Producer: Firdous Khezrian (Special thanks to the South Seattle Emerald for inspiration for this story)
Photo: courtesy of Rahma Rashid