Remember and Resist 2023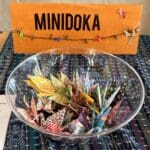 February 22, 2023 - 10:15 am

February 19, 2023 was the 81st anniversary of Executive order 9066.  It ordered the forced removal and incarceration of over 120,000 people of Japanese descent from throughout the west coast. 
In commemoration, an event was held at the Washington State Fair Events Center in Puyallup, Washington.  The organizers were Minidoka Pilgrimage, JACL Seattle Chapter, JACL Puyallup Valley Chapter, La Resistencia and Tsuru for Solidarity.
Over 7,000  people were incarcerated in make-shift shelters and animal stalls on the fairgrounds in 1942  for about five months until the incarceration sites were completed. 
The event also included a gathering at Tacoma's Northwest detention center to support the detainees inside and call for an end to immigrant detention and deportations.
Listen in on the voices and sounds from Remember and Resist 2023. 
Producer: Yuko Kodama
Photos: Widder Sessions