How are Cambodian artists approaching contemporary art today? Lauren Iida is an Artist and  Founder of Open Studio Cambodia, an artist collective based in Siem Reap, Cambodia. Iida founded this organization in  2018.  It mentors, represents, and provides supplies and communal studio and gallery space to a small group of local Cambodian contemporary artists.
KBCS spoke with Iida at The Vestibule in Ballard, where Open Studio Cambodia artists' work is featured through December 17th in the exhibit, Starting to Work Again: Contemporary Cambodian Art.  She describes the contemporary art scene in Cambodia today and introduces some of the artists featured in this exhibit.
Producer: Yuko Kodama
Photo: Lauren Iida
BTS, the South Korean music group has taken the global music scene by storm, breaking records in numbers of albums sold and spun, twitter follows, number of fans, sold out concerts and much more. 
Their influence has been noted by many, including governmental officials who have tried to suppress BTS's reach and image in public. This story looks at who they are, their work and social reach in partnership with their fanbase, ARMY.
Reuters graph of BTS/ARMY fundraising for Black Lives Matter
Producer: Yuko Kodama – special thanks to Sam Sullivan, Christine Marasigan, Nancy Yang, Candace Epps-Robertson, Laura Mundt, Angela Young and Sherry Lynn Reynolds Anderson
Photo: Ashley[epidemic]
Lauren Iida
is an artist who works with cut paper and paint.  Iida is artist-in-residence with
Densho Project
.  She recently completed an
art installation for Densho Project's community space
.   The piece was created in commemoration of the 80th anniversary of the day Franklin D. Roosevelt signed  Executive Order 9066.  This order authorized the US military to forcibly remove and incarcerate 120,000 people of Japanese descent in relocation centers across the United States in during WWII. 
Listen in on excerpts of an interview with Lauren Iida.
Producer: Yuko Kodama
Photo: courtesy of Lauren Iida
Reverend Osagyefo Sekou is a Musician and Theologian in Residence at Seattle's Valley and Mountain Fellowship. Reverend Sekou discusses art and its role in social movements.
KBCS's Gol Hoghooghi met Garold Rainier, a poet on the street. Listen in on how he navigates life since the 2008 economic crash and a serious accident.
Across the street from Cal Anderson Park in Seattle's Capitol Hill Neighborhood, you might come across a cluster of found jars and bottles arranged with  wildflowers and greenery that you would see growing through cracks in the asphalt of any parking lot.  (more…)
There's an art gallery in Seattle only accessible by public transit. Today on Unmute the Commute, the SODO Busway Murals. Produced by Ann Kane.
In this series, Louie Gong, Eighth Generation founder and Seattle Nooksack artist, explains "native inspired" doesn't mean a native artist crafted the piece. He also shares his story about how he got involved in a project to enliven a local transitional shelter with genuine native art.  The goal was to inspire change in the lives of the local people transitioning from homelessness to housingl.
Two miles of Seattle's downtown warehouse district are getting a new look!
Artists from around the world and the Seattle area have been commissioned to paint vibrant murals along the SoDo Track–the transit corridor between 4th and 6th avenues only accessible to Light Rail and Metro buses.
You can find a map of the SoDo Track murals here. An Opening Event is being held tomorrow, August 6th, from 6-9pm, with entertainment for all ages.
People-watching and gazing out the window are common ways to pass time on the bus. Tacoma artist Lynn Di Nino took this to the next level by creating an art exhibit inspired by her 35 mile long Tacoma-Seattle commute consisting of 3-dimensional portraits of bus riders sitting next to photographs, which are real window scenes taken on the bus. Correspondent Whitney Henry-Lester visited Lynn, here's her dispatch.
Images of Lynn Di Nino's show "Riding the Express Bus 594".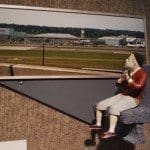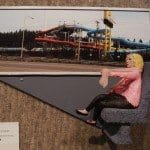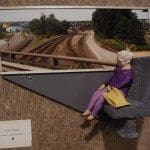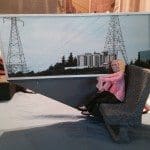 Click here for more What's the Flux?: Commuter Dispatches stories.