On February 19th, a number of Japanese American organizations and La Resistencia partnered to observe the 80th anniversary of Executive Order 9066, signed by President Franklin Roosevelt.  This act authorized the US military to forcibly remove and  incarcerate 120,000 people of Japanese descent across the west coast in 1942. 
The action started at the Puyallup Fairgrounds. Most Japanese Americans in the Seattle area were detained at the Puyallup Assembly Center before their transfer to concentration camps at Minidoka, in Idaho and Tule Lake, in California. Formerly incarcerated Japanese American elders attended alongside their families and the public.   Then the group gathered at the ICE Northwest detention facility in Tacoma to raise their voices in support of the detainees inside. 
 Listen in on some of the speakers and sounds from the event.
Producers: Kasumi Yamashita and Yuko Kodama
Photo: Pictured are Kennedy Philbrick (left) and Erin Matsuno (right). Photo taken by Kasumi Yamashita
On Feb 19, 1942 Franklin Delano Roosevelt signed an Executive Order authorizing the involuntary evacuation of Japanese American people from the West Coast to relocation centers throughout the country. As a result, most of the US Japanese and Japanese American population, 120,000 people, were forcibly incarcerated.
Paul Tomita was sent to Minidoka Relocation Center in Idaho with his family when he was a toddler. Today he advocates against the current detention of immigrants. He starts this story by describing his participation in an action at Fort Sill army post where child detainees were proposed to be held by ICE in 2019.
Producer: Gol Holghooghi and Yuko Kodama
Photo: Paul Tomita
(Audio story to be posted soon!)
Day of Remembrance Remember and Resist Event 2/19/22
Saturday, February 19, 10:00 am–1:00 pm
At 10 am, meet at the Puyallup Fairgrounds (Blue Lot Parking, 311 10th Ave SE, Puyallup, WA 98372).
At 11 am, we will move to the Northwest Detention Center (1623 E J Street, Tacoma WA 98421) for a continuation of the program starting at 12 pm.

Weather permitting, there will be some outdoor programming. Masks and social distancing required.
February 19, 2022, will mark 80 years since the signing of Executive Order 9066, which authorized the forced removal and mass incarceration of all Japanese Americans on the West Coast and beyond. Most Japanese Americans in the Seattle area spent their first few months in detention at the Puyallup Fairgrounds ("Camp Harmony") until their transfer to the concentration camps at Minidoka, ID, and Tule Lake, CA. The trauma of family separation, child imprisonment, poor sanitation, bad food, inadequate health care, and uncertain futures persists—and continues today at the Northwest Detention Center (NWDC) in Tacoma.
Gathering in the same location where barracks once housed incarcerees, survivors, their families, and community members will share the history of Camp Harmony and personal experiences there, before rallying at NWDC to remember and resist the injustices of the past and present. The program will also include a live taiko drumming performance by Fuji Taiko and a special ceremony to remember Japanese American concentration camps and incarcerees.
For RSVP or information: info@seattlejacl.org

Notes: Dress warmly. There will be one porta-potty facility available on the Puyallup site. Feel free to
bring signs, tsuru and noisemakers for the Tacoma portion of the program!
The Japanese American Community organized a Lights for Liberty event on July 12, in Wisteria Park, across from the Seattle Buddhist Temple.  This is a collage of sounds and impressions from people who attended.
Producers: Gol Hoghooghi and Yuko Kodama
Photos: Yuko Kodama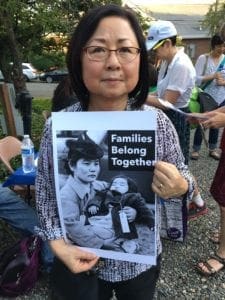 Alice Ito with a photo of her friend, Fumiko Hayashida and Hayashida's daughter, Natalie on the day she left Bainbridge Island for the concentration camps in 1942. Hayashida was also pregnant at the time.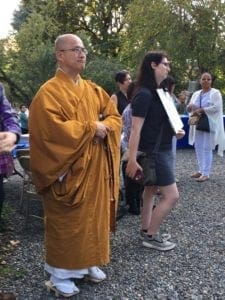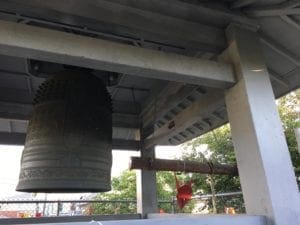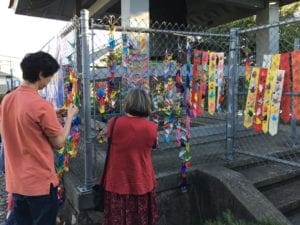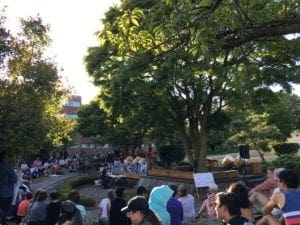 Attendees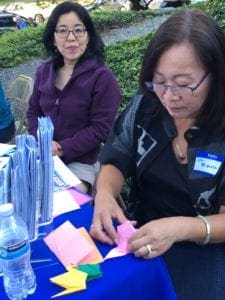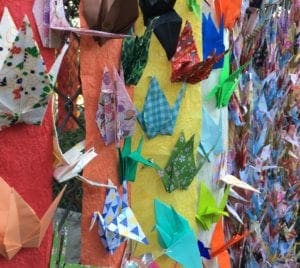 Cranes on cyclone fence
"From Hiroshima to Hope" is an event commemorating the bombing of Hiroshima, Japan that occurred on August 6, 1945. The evening features musical performances, a Buddhist meditation, and floating lanterns on Seattle's Green Lake. (more…)
The International District, or I-D is sometimes referred to as Chinatown. But how familiar are you with Seattle's Japantown?
From the late 1880's through 1942, This International District neighborhood bustled with grocers, laundries, and variety stores – and had a professional class of doctors, lawyers, and architects.
But according to King County, Federal Executive Order 9066 labeled 10,000 King County residents of Japanese descent as enemies of the state after the Japanese military attack on Pearl Harbor.
Most of the 10,000 local Japanese Americans were shipped to and incarcerated in the deserts of Minidoka, Idaho after transitional detention at the Puyallup Fairgrounds. Along the west coast, 120,000 people of Japanese descent were locked up in concentration or internment camps.
The Seattle Japantown neighborhood recently celebrated its identity with an event hosted in downtown Seattle. KBCS caught up with one of the organizers of the event and co-owner of Momo Store, Lei Ann Shiramizu over the phone to talk about the Hai! Japantown event. Highlights included a makers market, cosplay competition, children's activities and entertainment. Check out Japantown Seattle's Facebook Page for more information.