(This story originally aired in February of 2020.)
During the 1960's, Jimmie Lee Jackson tried registering to vote multiple times without success in Marion Alabama.  These experiences activated him to take up the cause for the right to vote.  His efforts, and finally his murder, led to a march which resulted in Bloody Sunday in Selma, Alabama during 1965.
Thousands took the streets in Seattle on Monday for the 38th annual Martin Luther King Jr Day March. KBCS's Gol Hoghooghi and Yuko Kodama gathered sounds and interviews from the celebration.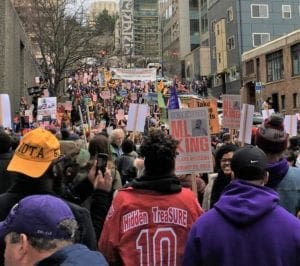 In the wake of the Parkland school shooting–and more than 190 other school shootings since Columbine–people took to the streets on Saturday to call for gun control.
Seattle high schoolers organized a local event to take place in conjunction with the Washington  D.C. march.
The Seattle march was one of more than 800 held world wide.
KBCS's Angie Voyles Askham brings you some voices and sounds from the event.
What role can ordinary citizens have in ensuring scientific programs and studies retain funding? YES! Magazine's  Susan Gleason speaks with Steven Miller, one of the magazine's Senior Editors, about stepped up activism outlined in the recent article After the March for Science, Keep Moving. They discuss why science cannot be silent.
A movement to outfit this weekend's marchers with pussyhats – knitted pink hats sporting cat ears, is taking local and national yarn stores by storm.  KBCS's Yuko Kodama visits a local eastside yarn store for details.
The knitted pussyhat pattern is here.  You can find crochet and sewings patterns for pussyhats on the pussyhat website.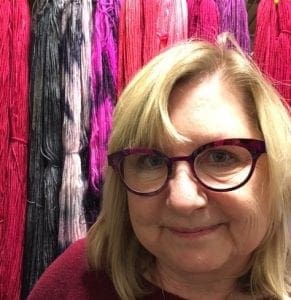 Debbie Frable with store dyed yarn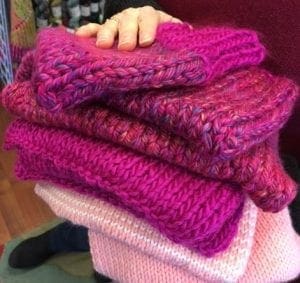 stack of pussyhats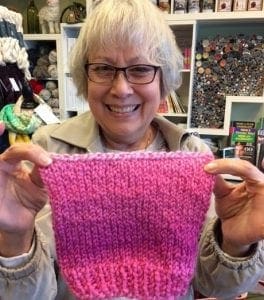 Suzanna Gilbert with a child's pussyhat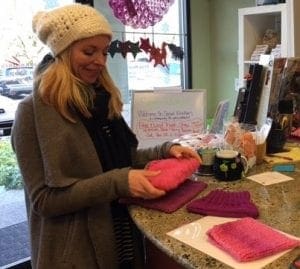 Jamie Lundeen getting ready for the DC Women's March
Over a thousand women marched against hate of any kind on Seattle's Capitol Hill on Saturday, December 3rd, 2016. KBCS reporter, Casey Martin has more.