Du Dinh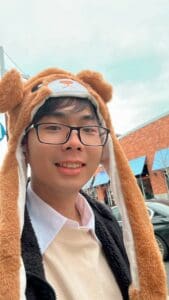 Hi guys, my name is Du Dinh. I'm currently one of the Global Leaders at Bellevue College. This is my second year here and my major is computer science. I love playing sports, video games, listening to music and throwing Pokemon games on YouTube. Today I would like to share one of my favorite songs with you guys. The name of the song is called "Có Đâu Ai Ngờ." It is a Vietnamese song by a Vietnamese artist, Cam. This song is about love and the melody and it's really slow and cute. I hope you can enjoy it and have a nice day!
Jemima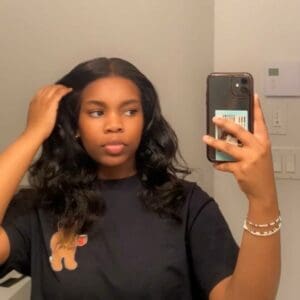 One of my favorite songs is "Tout Seul" by Gally and Heritier Wata. It is one of my favorite songs because it is a mix of emotions. It is quiet and at the same time deep. It's a song that I discovered when I went to Canada to see my brothers and sisters and I know it was one of the favorite songs of my brothers. So every time that I listen to it, I just remember summer there and a lot of memories. I feel just quiet, calm and happy. Even if it's a sad song – I don't know how, but I feel happy, because it also relates to a lot of stuff that has happened in my life before. I hope you enjoy it!
Julia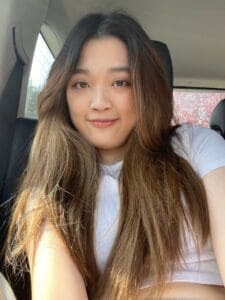 Hey guys, my name is Julia and I'm one of the Global Leaders at Bellevue College. I'm from Taiwan and I'm studying Business. I want to share this song called "If Only" by Ozi. He is a Taiwanese singer. This song is basically about rewinding time, and what he would do if he could talk to his grandma. I hope you like the song!
Kelan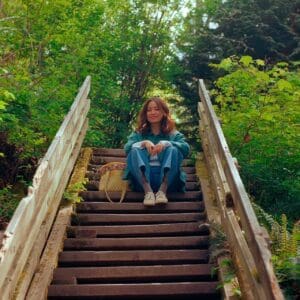 Hi, my name is Kelan and I come from China. This is my third year in the U.S and my second quarter at Bellevue College. I'm studying Digital Media Arts. I'm also a singer and songwriter. The song I'm going to introduce is actually a song that I released six years ago. It's called "Flower". This was one of the few songs that I wrote when I just started songwriting on guitar. Writing songs to me is like writing journals. I like to document my thoughts with melodies, and this song is one of the examples. A flower is a metaphor for thoughts that come and go and never settle for anything. It doesn't belong anywhere. A flower is free. It could go to any place, just like your thoughts. This song was awarded the top 20 singles by the Singapore Freshmusic Award in 2017. Please enjoy and I hope you like it!
Myo Han Tun Kyaw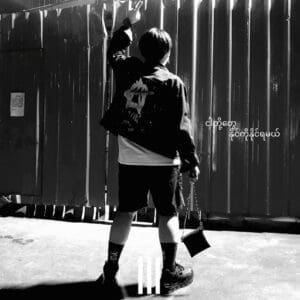 Hello everyone, my name is Myo Han Tun Kyaw and I'm one of the Global Leaders from Burma. I'm currently a computer science student at Bellevue College. Today, I would like to share a song from my country called "Yone Kyi Yarg" by Lay Phyu . Although the song was very popular in 2010, it got popular during the protesting stage of the Spring Revolution, when we protested against the military government.
So the reason why this song holds so much meaning for Burmese people, is because it tells us that we have to believe in what we are doing. And although we might have regrets and losses we still need to keep going to reach the final goal. In this song, people are literally sacrificing their life for this thing called "belief". It is relevant during the protests, because people are dying on the streets due to the military government.
Those people are fighting for freedom and we all are. So it helps us not to give up easily on our rights and freedom. The song is motivating and it's not only for protesting, you can listen to it anytime to get you motivated. It's a really good song. Enjoy!
Nada and Leda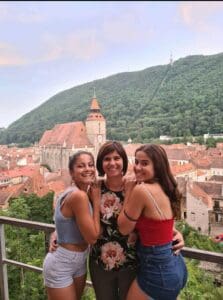 Nada: Hi everybody my name is Nada.
Leda: Hi everybody my name is Leda.
Nada: And we are from Italy. I'm currently studying at Bellevue College for my bachelor's degree in digital marketing. I love this song called "A Te" because it truly reminds me of the bond I have with my family.
Nada and Leda: In Italy, the family "La Famiglia" is really important.
BTS, the South Korean music group has taken the global music scene by storm, breaking records in numbers of albums sold and spun, twitter follows, number of fans, sold out concerts and much more. 
Their influence has been noted by many, including governmental officials who have tried to suppress BTS's reach and image in public. This story looks at who they are, their work and social reach in partnership with their fanbase, ARMY.
Reuters graph of BTS/ARMY fundraising for Black Lives Matter
Producer: Yuko Kodama – special thanks to Sam Sullivan, Christine Marasigan, Nancy Yang, Candace Epps-Robertson, Laura Mundt, Angela Young and Sherry Lynn Reynolds Anderson
Photo: Ashley[epidemic]
Live music events are missed by many during this time of social distancing.  Listen to Dan Cowan, the Owner of Tractor Tavern, and Leigh Bezezekoff, representative of The Washington Nightlife Music Association speak about the breadth of services impacted by this closure and their needs to survive through this time and what's to come.
Our Music Director, Iaan Hughes, is back at it, collecting a second round of go-to quarantine albums from KBCS DJs, local artists, and friends. If you missed it, you can check out the first round here.
Browse the selections below, then share what album is getting you through the day. (Share your album pick here) (more…)
The great American poet and jazz musician, Gil Scott-Heron, died today in 2011. He was 62 years old. As a boy, living with his grandmother – a civil rights activist, because these legacies can and should be passed down – he was introduced to the poetry of Langston Hughes and began to play piano. Best known for the peerless anthem "The Revolution Will Not Be Televised," his cleared-eyed lyrics continue to challenge and destabilize racial hierarchies in profound ways.
With today's SpaceX launch, the first crewed rocket to take off from American soil since Scott-Heron's death, I can't help but think of "Whitey on the Moon." It's a blunt expression of the pervasive inequality and racist violence that cripples this country; it's a cudgel of truth: "A rat done bit my sister Nell / With Whitey on the moon…/How come there ain't no money here? / Hmm! Whitey's on the moon."
Our Music Director, Iaan Hughes, reached out to KBCS DJs, local artists, and friends to find out their go-to music choices to get through these tough times.
Check out some of their selections then share what album is getting you through the day. (Share your album pick here)
Every year, the nooks and crannies of the hallways of a fancy, downtown Bellevue hotel are filled with bluegrass music during the Wintergrass Music Festival.  Wintergrass is a northwest bluegrass festival tradition bringing the region bluegrass artists from around the world, workshops on this musical genre and techniques, and a youth camp for the children on mid-winter break.  KBCS introduces you to a little of the culture behind a bluegrass festival – the jamming.
Japanese American, Singer and Songwriter, Kishi Bashi's (Kaoru Ishibashi) latest album, Omoiyari highlights the experiences of incarceration. The Japanese word, Omoiyari, means holding empathy and compassion. The album is the result of two years of Ishibashi's numerous interviews with with those affected by, and visits to former WWII internment camps, where around 120,000 Japanese descendants across the United States were incarcerated.
KBCS caught up with Ishibashi before his Seattle performance at the Showbox SODO in early October.

Producer: Yuko Kodama
Photo: Max Ritter
Thanks to John Woodgate for transcription.  Special thanks to Tamiko Nietering for assistance with this story.
Yuko Kodama 0:00
KBCS 91.3 I'm Yuko Kodama.
Kishi Bashi, is a singer and songwriter whose most recent album "Omoiyari" centers its lens on the experiences of about 120,000 Japanese descendants who were incarcerated in internment camps during the Second World War. Research for this album took Kishi Bashi, or Kaoru Ishibashi on numerous trips to visit former internment locations throughout the United States. He spoke with me about this experience at the Showbox Sodo in early October.
Unknown Speaker 0:35
Song
Yuko Kodama 0:50
Tell me about that first time that you went to Heart mountain and what that felt like for you as someone coming from a family that didn't experience being incarcerated in the camps.
KB 1:04
That wasn't the first place I went, actually I went to Manzanar and Poston first actually, and some of the West Coast sites like the assembly centers. And honestly, it was a little troubling at first. I went to Manzanar and I don't know if you've been there, but it's a beautiful place under the Sierra Nevada mountains. It's very peaceful, you know, you go there and you're wonder "why am I not feeling the trauma, or the injustice that happened" and I think you can't feel bad about yourself for not being able to process things immediately. I think it sometimes it takes time might take years and maybe never, you know,
Yuko Kodama 1:35
As you're talking about this, you know, you might have had a more difficult time processing it at first, but then you've come to work on music that is speaking to the processing of this and videos around this as well. So as you've been processing, where's it taking you?
KB 1:54
I was writing music all throughout. Sometimes at the places sometimes just in hotel room or sometimes at home, after visiting and I think what that really did was to collect my ideas in to a musical form that I could compile later. I definitely have a larger view of what the conflict was like in World War Two ethnically and racially, you know, it was it was a complicated time.
Speaker 1 2:16
Tell me about some of the songs that you've worked on, speak to some of these concepts that you've been working through.
KB 2:23
Well, okay. Like, for example, I have a sample theme for Jerome, which I wrote for the Jerome incarceration center in Arkansas, which I visited. And what I didn't really realize initially, was that the camps are really full of Japanese people. We like to say, Oh, they were Japanese Americans. And for the most part, they were Japanese people coming to America to make a better life for themselves. And obviously, their kids were naturalized, born in America and as American as anybody could be, right. But there's so much Japanese culture in these camps, that a lot of it was suppressed. And a lot of times, parents from Japan, "Issei", first generation parents, would make the difficult decision of suppressing their culture in order for their children to survive. And for me that was extremely painful because I value my Japanese heritage and I speak Japanese. It's kind of heartbreaking for a parent to have to do that for their kids. And I think there's probably some immigrant communities today in America that might feel similarly that they have to make this difficult decision to suppress their culture so that their kids can have a better shot at assimilating
Unknown Speaker 3:27
song
Speaker 1 4:00
Tell me about your daughter, you took her to Heart mountain? What made you decide on that? This is a personal journey for you where you took your parents and how was that? What brings you back to these places where people were formerly incarcerated over and over?
KB 4:17
I mean, honestly, it's I think the people bring me back. You know, I've made a lot of friends in in Cody, and also people who attend heart mountain, the pilgrimage. For my daughter, it's like, I want her to know what I'm working on. She knows everything about what I'm working on. Honestly, she's likely will you stop talking about internment, you know, and I'd be like, "I wish I could", but I talk to her about a lot of things and I'm convinced that her generation at least, you know, the people I see, are more empathetic, you know, and more ethical, I think, than I was when I was a kid. You know, to know that they're okay with like LGBT and they're actively trying to not be racist, you know, is is something that I, when I was 13 I didn't I didn't have any of that. Nobody was discussing racism. That much, you know, definitely nobody was gay, you know, they're everyone's in the closet, you know, back then. So I think like to see that it gives me a lot of hope and that when that whole generation becomes voting adults and taxpaying adults, it'll be a different society. I also like to point out that a few years ago, over 50% of all school aged children are people of color. So that's a very powerful indicator that this country is really headed into a more dynamic, diverse society that will have just only positive benefits, I think.
Unknown Speaker 5:43
song
Yuko Kodama 6:06
Next is part two of segments from a KBCS interview with singer and songwriter, Kishi, Bashi or Kaoru Ishibashi. Kishi Bashi shares his take on mass incarceration and racism with me at the Sodo showbox venue on October sixth.
KB 6:42
When I started to look into Japanese incarceration, there's something that always was at the back of my head that I had to address which is like mass incarceration. The largest like ICE facility here in like Tacoma the detention facility, you know, Something that's, I feel like every opportunity I get, you know, I need to mention it because it's it's such a problem. So "Angeline", the song is about convict leasing, which is Jim Crow era, basically, criminality that was put on the African American people like especially males after the reconstruction after the Civil War, the South quickly just made up a bunch of the vagrancy laws to convict African Americans so that they could impose a fine upon them that they had to pay off through hard labor. So chain gangs, all those things, those are a result of convict leasing. And basically the foreman would come and the sheriff would round up people, and then just put them back on the plantations that they could have been formerly slaves on. Many considered it worse than slavery, because as a slave, you wouldn't want them harmed, because they have to work for you, but as convicts, you could just work them to death. And so that's the unfortunate story after the civil war that a lot of people still don't really understand. We know the word Jim Crow, it's in the textbooks, but the Legacy of Jim Crow and like lynching and all this stuff is still being uncovered. It's a difficult topic for, especially for white people in the south to talk about, but it's just something that needs to be continually acknowledged and talked about.
Unknown Speaker 8:19
Song
KB 8:39
African American males are viewed as criminals, you know, and this is why they end up in jail because it's easier to put them in jail if you think they're criminals, right? So it's the kind of thing that I felt so strongly about, especially since I live in the south, I live in Georgia. There's two camps in Arkansas. To see just this systemic racism that still exists there. It's difficult to if you're in a position of privilege to really acknowledge, but it's just all around you. And if there's so many communities that always live as second class citizens, you know, unfortunately.
Unknown Speaker 9:12
Song
KB 9:36
I mean, the most important thing about racism and discrimination, is that you just have to keep talking about it because it's not like black or white or it's a very nuanced thing for different people in different situations. So it's literally evolving, dynamically, like every day, but it just needs to be talked about, you know, constantly.
Unknown Speaker 9:57
Song
KB 10:06
We're all human beings with varying levels of fear and discomfort. Intergenerational the you can be a complete racist when you're 18 and become a great part of society when you're older. You know, people change.
I think we all have our preconceptions about what the world is supposed to be like. Every single person has a different perspective. They're all like different universes. any random passer by has a world as vivid as your own. So you know, to have that in mind is a little humbling, but also makes it kind of exciting.
Unknown Speaker 11:30
Song
Yuko Kodama 11:35
That was music artist Kishi Bashi speaking with me in early October at the Showbox Sodo. 91.3 KBCS this is Yuko Kodama
Some fresh schedule updates are on the way in time for summer.
KBCS' premier Latin music program ¡Sabor! gains an hour, extending to 7pm, to be followed by a one hour preview of Nothing But Nineties, with host Niko.
Later in the month, The Living The Blues crew slides into Wednesdays, bringing blues to help you get through. Chairman Moe pogos over to Saturdays, adding his '80s party to the mix. (more…)
We're giving away a pair of tickets to see the Avett Brothers, Lake Street Dive, and Trampled by Turtles at the Gorge Amphitheater in George, WA on August 10th. Along with the tickets, you'll also get passes to camp at the gorge for August 9-11th.
Don't wait, the drawing will take place at 7pm. Donate now to get automatically entered to win.
While there's no donation required to get entered into the drawing (Drawing Entry Only), your contribution plays a critical KBCS continue to bring you and your community the independent music, news, and information you count on.