Music of the Moment: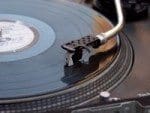 May 31, 2014 - 9:00 am
Music of the Moment:
5 brand new releases we can't wait to share with you this month:
1. John Fullbright  Songs  (Blue Dirt) – If having a talent for brilliant songwriting is an indicator of a successful career, this young man should be a household name by now.  Yes, he is indeed, just that good.  If you like really good songwriting, and aren't familiar with him, I'd strongly suggest you check out his music ASAP.
2. Truth North  Elsebound  (independent) – 3rd album from this Oregon quartet.  Most of the songs are original pieces by Kristen Grainger.  Who is a darn fine songwriter as well as lead singer.  Dale Adkins guitar pickin' adds a deft touch, and the bands harmonies are wonderful.
3. Toumani & Sidiki Diabaté  Toumani & Sidiki  (World Circuit) – Deliciously exquisite set of father and son duets on the harp-like West African kora.  Stunning instrumental music from start to finish.
4. Phox  Phox  (Partisan) – Unconventional Midwest band lead by vocalist and songwriter Monica Martin, who has one heck of a voice.  With instruments as varied as banjo, clarinet, toy piano and glockenspiel interwoven with the traditional bass-drums-guitar, this is not your usual pop music.  Check it out; your ears will be rewarded.
5. Bruce Robison & Kelly Willis  Our Year  (Premium) – This is the 3rd release from this Austin husband and wife super duo.  They wanted to capture the "swampier, grittier side" of country music, and they nailed it.  Full of warmth, joy and downright fun.
Last Month's Top 3 Releases:
1. Kelis  Food  (Ninja Tune) – A superb new record which just keeps hitting the sweet spot on Music + Ideas.
2. The Holmes Brothers  Brotherhood  (Alligator) – You just can't go wrong with soulful brother harmonies.
3. Mexican Dubwiser  Electric City  (Koolarrow)  – This LA dj has been putting his own spin on remixing contemporary Latin music.