$12 minimum wage bill passes its first hurdle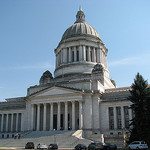 January 29, 2015 - 4:06 pm
By John Stang
A bill to increase Washington's minimum wage cleared the House Labor Committee Thursday by a 4-3 party-line vote.
The Democrats' committee victory means that Rep. Jessyn Farrell, D- Seattle, now has to nail down 50 votes to for her bill to pass the full House. It would increase Washington's minimum wage from $9.47 to $12 an hour by 2019.
She introduced a similar bill last year, but it could scrape up only 46 or 47 votes behind the scenes. Farrell hopes expanding the phase-in period from three years to four years will pick up the remaining votes.
On another 4-3 vote, the committee recommended approval of a bill by Rep. Laurie Jinkins, D-Tacoma, to require companies with more than four employees to provide sick leave.
Committee chair Rep. Mike Sells, D-Everett, said: "This boils down to something simple to me. I don't want to be served by someone who is sick." Rep. Graham Hunt, R-Orting, replied that a sick leave bill "fosters employer-employee conflict" with tensions on the use of the sick leave.
If the two bills pass the Democratic-controlled House, they appear to have one or two supporters among the Republicans who hold the Senate majority. The measures would likely need at least one or two more GOP members to pass the upper chamber. Most GOP senators appear strongly opposed to each concept.
At Thursday's labor committee vote on the wage bill, ranking Republican Rep. Matt Manweller of Ellensburg characterized minimum wages as primarily being for workers just starting out. "If you want more money, get more education. If you want more money, get better skills," he said.
Sells replied: "When you're at the bottom rung of the ladder, people have a difficult time to do the things that they have to do to climb up."
The committee's Democrats defeated an amendment Manweller proposed to create a lesser minimum wage for teenage workers. Sen. Mike Baumgartner, R-Spokane, has also offered a bill that more or less resurrects 2013 and 2014 Republican efforts to create a minimum wage for teen workers at 85 percent of the adult minimum wage. The teenage wage would only be allowed for a limited period of work.
In the past, Baumgartner's teen wage bill has stalled in the Senate amid efforts to tweak it. The House committee vote against Manweller's amendment is a sign that if Baumgartner's measure eventually passes the Senate, it will face a tough time in the House.
However, the Manweller teen wage amendment could also be a sign that Republicans may be willing to offer Farrell and other Democrats opportunities to make compromises that would attract enough votes to enact a hike in the minimum wage.
Distributed by Crosscut Public Media