Celebrate The Gospel Highway – 10 Years on the Air!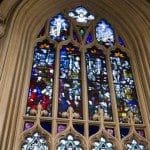 October 27, 2015 - 4:42 pm
Tune in to The Gospel Highway Saturday mornings at 7:00 throughout November as we celebrate 10 years on the air with live performances from NW Gospel artists, interviews, and stories. Upcoming guests:
Nov. 14 Pastor Patrinell Wright, Director of Seattle's Total Experience Gospel Choir
Nov. 21 Debbie Cavitt, Seattle gospel and jazz vocalist
Nov. 28 Nick Borkowski (WWU student and participant in recent civil rights pilgrimage)
All of us on the Gospel Highway Team would like to thank our many listeners and supporters!