Yemen's War and Health Crisis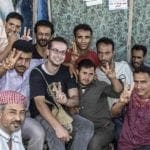 June 1, 2018 - 7:40 am
Yemen is in a humanitarian crisis, as bombings and medical and food blockades continue. Listen to local perspectives on the conditions in this country.
Parts 1 & 2: Aisha Jumaan is a local Yemeni Epidemiologist, coordinator of health projects for Yemen, and founder of the Yemen Relief and Reconstruction Foundation, which sends food and supplies to families in Yemen. She recently described the critical health situation and war in Yemen with KBCS's Esther "Little Dove" John.
Part 3: Congressman Adam Smith explains some of the political relationships which add to the complexity of the crisis in Yemen. Thanks to Esther "Little Dove" John for the recorded audio. (audio to come)
Part 4: Renton Washington's Luke Somers was a photojournalist in Yemen.  He was captured by Al Qaeda of the Arabian Peninsula in 2013 and was murdered in 2014.  His mother and brother describe their harrowing journey in navigating the news of Luke Somer's capture with KBCS's Yuko Kodama. (audio to come)
Photo: Luke Somers with friends in Yemen.  photo courtesy of Jordan Somers.
Producers Esther "Little Dove" John, Yuko Kodama, and Ruth Bly