KBCS Volunteer Spotlight – October 2018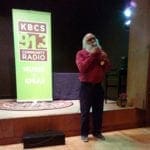 October 19, 2018 - 4:17 pm
Host: David Utevsky
Program: Straight, No Chaser, Mondays, 9pm-11pm
How long have you volunteered at KBCS: Since March 1991.
What was the first song you played on KBCS: "Ramana" by Glen Velez, from Seventh Heaven.
Your First Concert: Pete Seeger & Sonny Terry.
Favorite Saturday Night Album: Van Morrison, Astral Weeks.
Favorite Sunday Morning Album: John Coltrane, A Love Supreme.
What album do you own and love that would surprise your listeners: Marais & Miranda, Songs of the South African Veld.
What album changed your life: Meet the Beatles.
Vinyl, CD, Digital: Vinyl, CD.
First news story you can remember: Something about Richard Nixon and Alger Hiss.
Pen, typewriter, computer: Yes, yes, yes.
What news event changed your life: Kennedy Assassination.
Favorite Book: Fyodor Dostoevsky, The Brothers Karamazov.
Favorite KBCS Show (that's not your own): Giant Steps, Flotation Device, Music of Africa.