Thom Hartmann: The Hidden History of Guns and The Second Amendment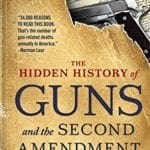 June 25, 2019 - 4:38 pm
Progressive Talk show host, Thom Hartmann spoke at Town Hall Seattle about the Hidden History of Guns and the Second Amendment on June 23rd.  Here is the full recording from the event.
Be sure to check out the live broadcast of the Thom Hartmann Program on KBCS, each weekday from 9 am to noon!
Special thanks to Town Hall Seattle for the audio tape.