KBCS Sunday Folks DJ Mike Biggins Picks Ten Albums From the Decade 2010-2019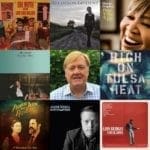 December 29, 2019 - 9:23 am
Mike co-hosts Sunday Folks, one of KBCS's longest running programs, Sunday mornings from 9:00 – 12:00 PM. Check out some of his favorite albums from the past decade!
Rhiannon Giddens Freedom Highway (2017) Nonesuch
John Prine The Tree of Forgiveness (2018) Oh Boy
Jason Isbell Southeastern (2013) Thirty Tigers
Mavis Staples One True Vine (2013) Anti
Leon Bridges Comin' Home (2015) Columbia
Tift Merritt Travelin' Alone (2012) Yep Roc
Pharis & Jason Romero A Wanderer I'll Stay (2015) Lula
Zoe Muth & The Lost High Rollers Starlight Hotel (2011) Signature Sounds
John Moreland High On Tulsa Heat (2015) Old Omens
Various Artists: Roll Columbia: Woody Guthrie's 26 Northwest Songs (2017) Smithsonian Folkways
Mike's Comments:
ALMOST:  Birds Of Chicago, James McMurtry, Hurray For The Riff Raff, Valerie June and Chuck Prophet.