KBCS Our Saturday Tradition host Larry Lewin Picks Ten Albums From 2019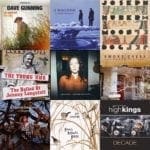 December 31, 2019 - 4:49 pm
Longtime host of Our Saturday Tradition, Larry Lewin, brings a bit of focus to a wonderful year in music. Check out his favorite albums from the year!
Dave Gunning Up Against the Sky Wee House of Music
J Wagner A New Story Independent
Zoe Mulford Small Brown Birds Independent
Best of the High Kings Decade Celtic Collections
The Young 'Uns The Ballad of Johnnie Longstaff Heretue Records
Joseph Huber Moondog Independent
Alexa Rose Medicine for Living Big Legal Mess Records
Martin Simpson Rooted Topic Records
Smoke Creek Range Fire Independent
Tim Grimm Heartland Again Independent
Honorable Mention (in no particular order):
John McCutcheon / To Everyone in the World; Marley's Ghost / Travelin' Shoes;  Big Country Bluegrass / Mountains, Mamas and Mandolins; Dede Wyland / Urge for Going;  Ed Miller and Rich Brotherton / Follow the Music; Dervish / The Great Irish Songbook; Bob Livingston / Up the Flatland Stairs; Ellis Paul / The Storyteller's Suitcase; Tim Henderson / Among the Best; Trillium-239 / Rare Isotope; Ben Winship / Acorns; Tommy Sands / Fair Play to You All
Comments:  Every year picking these selections is an agonizing process, which explains why there are so many Honorable Mentions.