Life lessons learned on the bus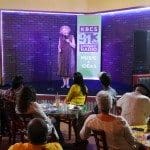 May 12, 2016 - 1:30 pm
Our WTFlux team learned at our April event that when you "unmute the commute", you can learn a lot. From having conversations to strangers to people watching that inspires art, there are many life lessons that can be learned.
In this excerpt from the event, you hear Seattle bus chick, Carla Saulter, artist, Lynn DiNino and student, Al Brown.
Click here for more What's the Flux?: Commuter Dispatch stories.