KBCS Bids a Fond Farewell to Larry Lewin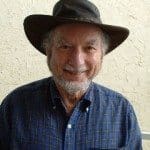 May 19, 2022 - 5:01 pm
For over three decades, KBCS DJ, Larry Lewin, chronicled a history of recorded folk music. Each week was a fresh page. Now the book is complete. On May 28th, Larry will step aside from Our Saturday Tradition, the Saturday morning folk music program he has hosted since 1988.
"Larry is exactly as you hear him, genuine, humble, warm—devoted to the music and the craft. He never misses an opportunity to learn and grow or to contribute toward the greater good. It's difficult to imagine KBCS without his gentle, steadfast presence." – Patrick Whalen, KBCS Program Director
A native New Jersey, Larry moved to Seattle in his 20s and embarked on a long career as a Boeing engineer, where he was involved in developing state-of-the-art fighter jets.
Drawn to KBCS by his long time interest in folk music he soon earned a slot on air. KBCS listeners have spent many a Saturday morning with Larry, his forthright and enthusiastic presence a reliable touchstone.
"It is bittersweet to see Larry move on. His work over the last 30-plus years provided us all with solace, comfort and enjoyment. He epitomizes the best of the Seattle folk scene and the values of Northwest Folklife. Thank you, Larry!" – Benjamin Hunter; musician, Creative Cultural Advocate, Artistic Director of Northwest Folklife.
Behind the scenes, Larry devoted countless hours to preparation, dutifully listening to every new release, taking careful notes, and scouring the vast KBCS folk CD library for songs living deep in his memory. There is a hand-written playlist for every show, filed carefully within an ever-growing set of three ring binders.
"Larry's dedication is unsurpassed, especially when entering the brave new world of producing remote radio during the pandemic. With over three decades of hosting folk shows on KBCS, he is a trove of knowledge of all kinds of folk music. But putting together a good show takes so much more than just knowledge alone; it's Larry's taste in carefully choosing selections that made his shows filled with 'sweet sounds.'"  Thank you, Larry, for all your years of bringing us great music!" – Jean Geiger, KBCS Folksounds host/producer
Please join us in celebrating Larry Lewin.
Notes of appreciation may be sent to dj@kbcs.fm or KBCS, ATTN Larry Lewin, 3000 Landerholm Circle SE, Bellevue WA 98007